April 09, 2019 School of Theatre, Dance, and Performance Studies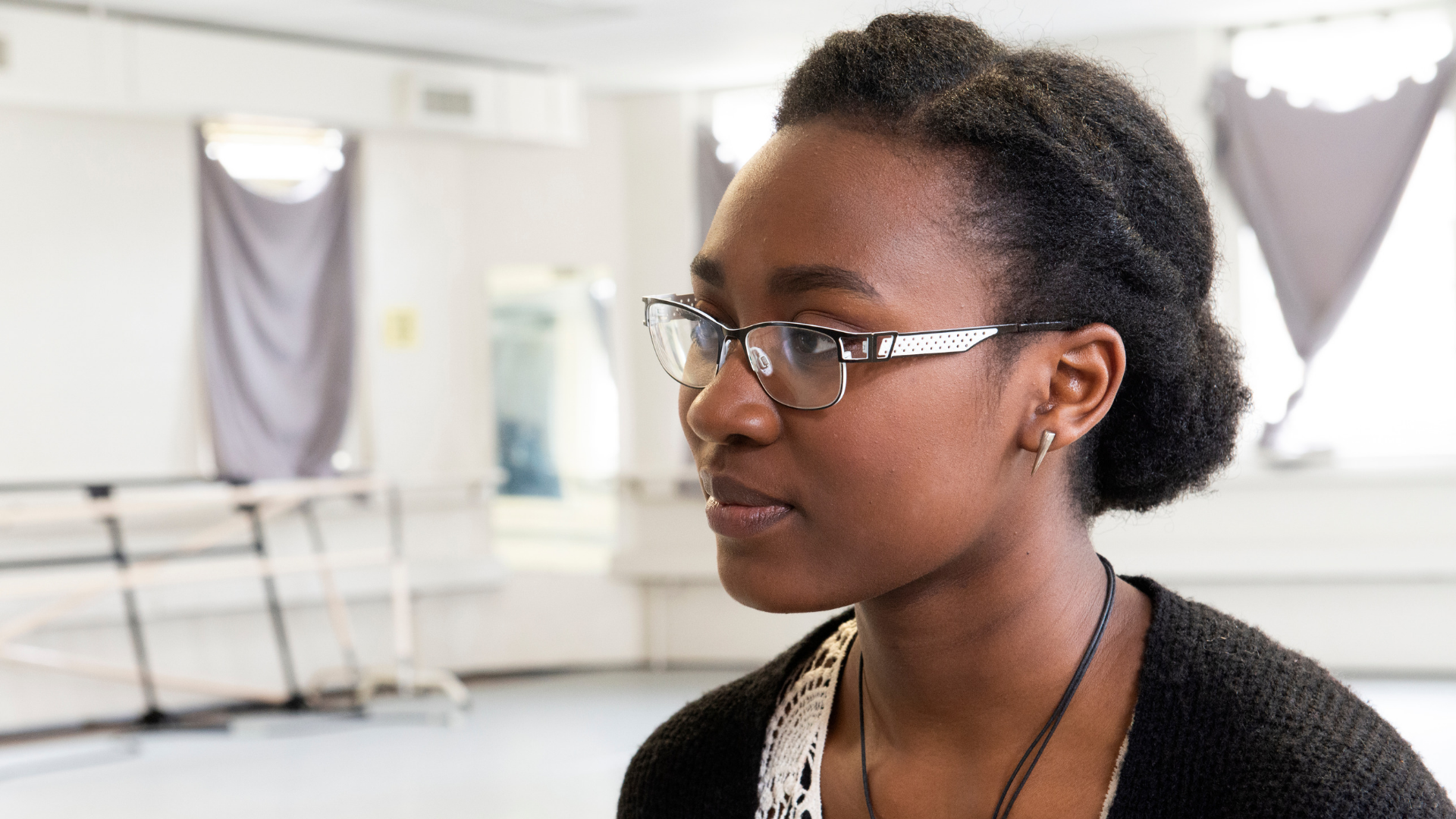 Dance major Miejo Dambita wants you to share your secrets.
By Kate Spanos Ph.D. theatre and performance studies '16 | Photos and video by David Andrews
When is the last time you cried? Miejo Dambita '21 wants to know. Dambita vividly remembers the first time she saw a dancer cry onstage. It was last spring when she saw "Dearest Home," an immersive dance theatre performance by the dance company Abraham.In.Motion as part of The Clarice's Visiting Artist Series. A dancer broke into tears during a solo, and she found herself crying with him.
This experience convinced her that the most vulnerable art is also the most impactful, and inspired her to explore the topic for her Honors Humanities keystone project. On Thursday, April 4, Dambita will share "Encountering Vulnerability," a performance that is part dialogue and part presentation. Through audience participation, Dambita hopes to demonstrate that showing emotion is a sign of strength and not weakness.
"I want people to understand that there's agency in vulnerability," she said. "I think of fear as an advantage that allows us to take risks that promote learning and self-transformation."
Dambita's goal is to facilitate a conversation about vulnerability, both how we experience it and how we recognize it in others. To maintain a safe, trusting environment during her performance, the audience is limited to twenty people. Audience-participants will write secrets on post-it notes and anonymously place them into a jar. At various points during the piece, Dambita will invite people to read a secret from the jar or place in new secrets. She will also show various pieces of visual and multimedia art to prompt a discussion on how we recognize vulnerability, including a clip from the TV show "This Is Us," which depicts a male character having an emotionally difficult moment.
"Many of the pieces that I've chosen feature women, but I realize everyone has different perspectives," said Dambita. "I also want to understand what vulnerability means to others."
That question is at the heart of her project. To answer it, Dambita drew on her passion for the arts and the communication and research skills she honed in Honors Humanities seminars. In addition to researching vulnerability in art, Dambita conducted interviews with acquaintances, friends and family to learn how they experience vulnerability in their lives. Do they cry often? When is the last time they cried, and why?
"This was the toughest question to ask," Dambita said. "I gave everyone the option to skip a question if it was too personal, but everyone opened up to me."
Through her interviews, Dambita learned that when people feel safe, they're more willing to open up to others. She was able to create an easy rapport with her interviewees through her approachable personality, and Dambita hopes to recreate a similar feeling of security during her presentation.
"I want to know what happens when our masks come off and we encounter each other and ourselves without those protective barriers," she said.
The next step? Dambita hopes to use her insights into vulnerability to choreograph a dance piece that will prompt audiences to reflect on how they can build deeper, more meaningful relationships.
Miejo will present her Honors Humanities keystone project "Encountering Vulnerability" on Thursday, April 4 at 7:30 p.m. in the Cafritz Foundation Theatre at The Clarice. To attend the presentation, RSVP here.