March 01, 2019 School of Theatre, Dance, and Performance Studies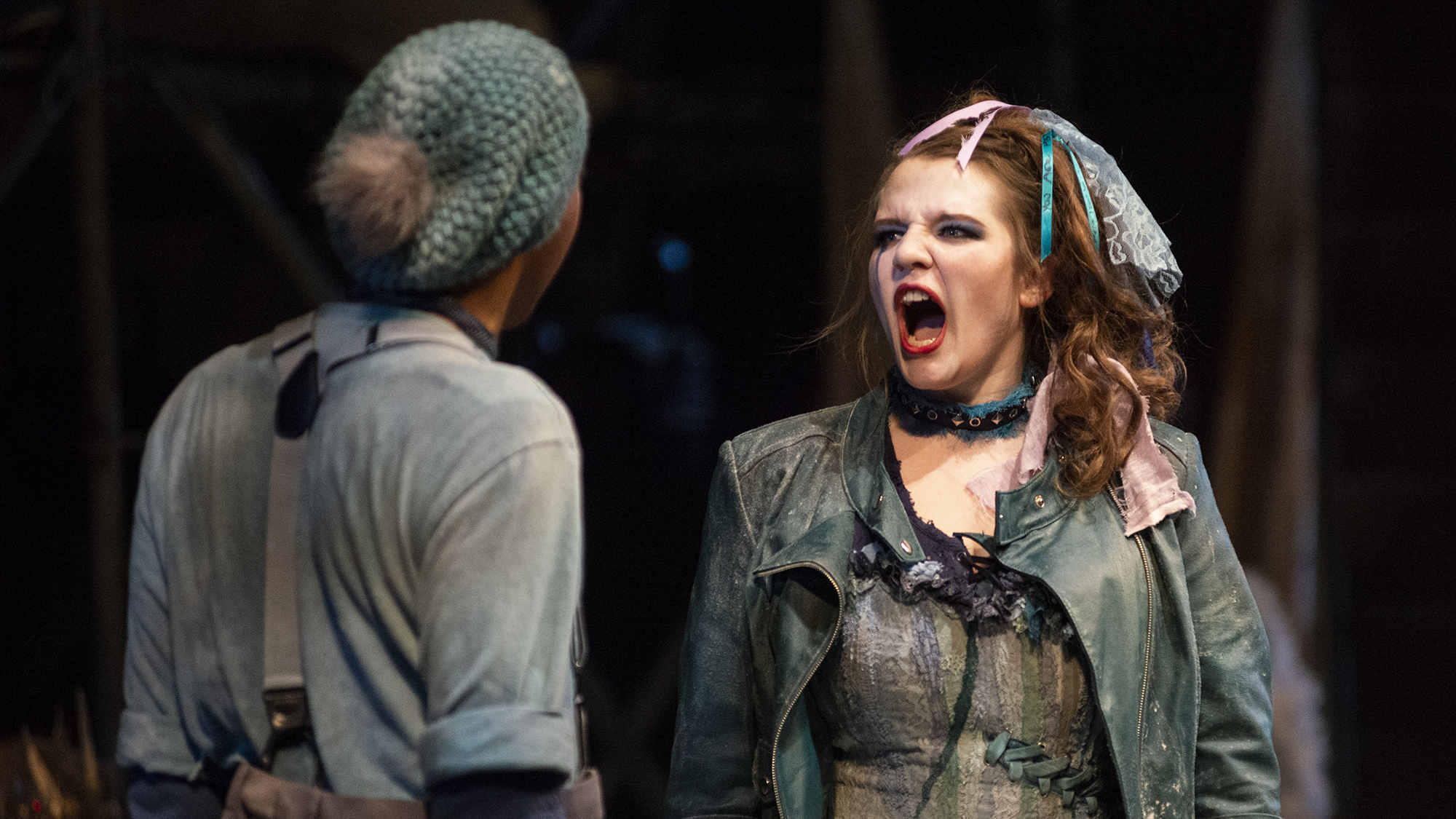 Theatre major Molly Boyle '19 finds her stage voice.
By Kate Spanos '16, Ph.D. theatre
"I am 180 degrees different from when I arrived at Maryland."
Theatre major Molly Boyle '19 always knew she wanted to be an actor, but it was in the rehearsal studio that she learned what it meant to be an artist.
In November 2018, Boyle was rehearsing for the School of Theatre, Dance and Performance Studies' (TDPS) production of "Citizen: An American Lyric," a play about racial injustice that addresses the everyday experiences of black Americans. As one of two white actors in the play, Boyle underwent a complete emotional and intellectual revolution as she portrayed characters that were both painfully realistic and empathetic.
"I had to reconcile with my inherited history, with the abuse that white people have inflicted on people of color for centuries," she said. "To play my roles well, I learned to navigate between my life on and off stage."
The performance styles she learned in classes with TDPS faculty helped her develop the emotional and physical resilience to play complex, ambiguous characters. With Professor Mitchell Hébert, she studied a psychological "from the inside out" approach to character development. Associate Professor Leslie Felbain and Assistant Professor Lisa Nathans helped her hone a more physical "from the outside in" approach.
Boyle said that many roles required her to draw on not only multiple approaches to character development, but also on research and ideas learned in other classes. In TDPS's 2017 production of "Antigone," Boyle was one of three actors playing the lead character Antigone, whose personality was divided into three parts. She used what she learned in an honors psychology class, "Merging the Multiple Me's," to portray this multifaceted and contradictory character.
Her September 2018 role in "The Triumph of Isabella," an immersive experience presented by TDPS' International Program for Creative Collaboration and Research, required all of her training. In this exploration of seventeenth-century European street performance, she played an actress playing the role of Archduchess Isabella Clara Eugenia, who was the honoree at the 1615 Ommegang pageant in Brussels. Boyle used the skills she learned in professor Felbain's character development class, combining historical and psychological research with physical technique to understand the character's gestures, rhythms and mannerisms.
Developing strong performance skills as well as a solid liberal arts education background was part of why Boyle chose the TDPS program at UMD.
"Having an academic background in liberal arts helps me understand how the work actors do on stage is relevant in the world," she said.
Molly Boyle plays Genevieve/Ophelia in the TDPS production of "Hamlet Replayed," directed by Leslie Felbain, now playing at The Clarice through Saturday, March 2, 2019.