Theatre Major Takes on Ambitious Roles Across the Region
October 23, 2019 School of Theatre, Dance, and Performance Studies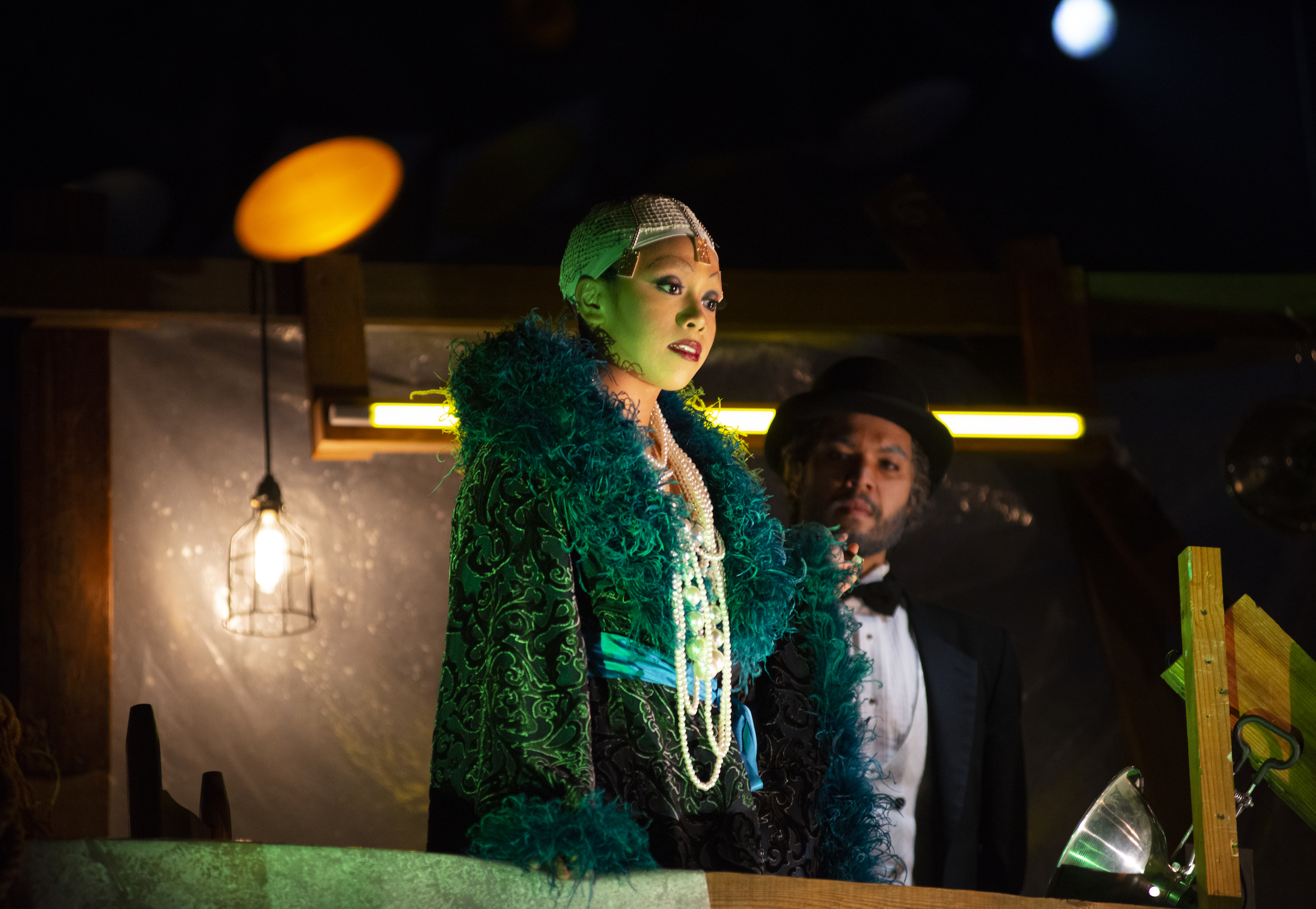 Denisse Peñaflor '20 challenges herself through on campus opportunities and D.C. internships.
By Jessica Weiss '05
On first glance, Claire Zachanassian's character in the play "The Visit" seems pretty straightforward. Zachanassian is vindictive and cruel as she returns to her hometown to exact revenge on a former lover.  
But Denisse Peñaflor '20, theatre, who played Zachanassian in the School of Theatre, Dance, and Performance Studies' (TDPS) recent production of the 1956 Swiss absurdist piece, knew she had to portray Zachanassian as more than that. She saw the character as a complex human being and someone capable of love, too. 
It was the senior theatre major's most ambitious, challenging role to date and the first time she was a lead in a TDPS production. 
"She really stretched me, which is good," Peñaflor said about Claire Zachanassian. "My challenge was finding those things that make a person human, that make them both love and hate. As humans we have a huge range of emotions and we contradict ourselves often. That's what Claire is. She is human." 
While at UMD, Peñaflor has also held roles in the TDPS mainstage productions "The Heidi Chronicles" and "Eurydice," as well as Second Season student-produced shows. But she's also challenged herself offstage. Committed to learning how things work behind the scenes, she's held two internships at Washington, D.C.'s Arena Stage. And she's an outspoken proponent of representation and diversity in theatre.
"As an actor people see you on stage and you're the face of this whole thing, but if you're an artistic director or a casting director, you're making decisions," she said. "I find myself wanting to be part of this larger thing. To me it's important to make art that speaks to a wide audience." 
Peñaflor first tried acting in high school for fun. She entered UMD on the pre-med track, with hopes to be a doctor. But she missed being on stage, so she took an acting class sophomore year. And she hasn't stopped since.
In 2017, she joined Kreativity Diversity Troupe, an "all inclusive" collective of artists on campus that puts on a theme-based performance each semester. The group writes, directs, produces, performs and stages original work while maintaining a safe space for marginalized people to create. Two years later, she is now the artistic director of the collective. 
Last summer, as a casting intern at Arena Stage, Peñaflor worked on casting for a production of August Wilson's 1995 play "Seven Guitars," checking in actors upon their arrival and watching them audition. She also previously held a community engagement internship at Arena, working with the musical theatre program.
"It provided me a place to learn and look and observe, and was so different from an educational institution," she said about Arena. "I got a taste of what it would be like to work in a theatre company professionally. Being behind the table and making those decisions is important."
This semester, in addition to preparing for spring auditions, she's trying her hand at another aspect of theatre: sound design. She's working on the Second Season show "Breath, Boom," an episodic play by a UMD alumna and directed by a senior theatre major that will be at The Clarice Nov 22-24.
"TDPS is great in that they allow us to try everything and anything as long as we ask," she said. "It's up to us to say 'Hey, I would like to learn to do this.'" 
Photos by David Andrews.