Professor Daniel Conway travels to the 'Olympics' of theatrical design
September 05, 2019 School of Theatre, Dance, and Performance Studies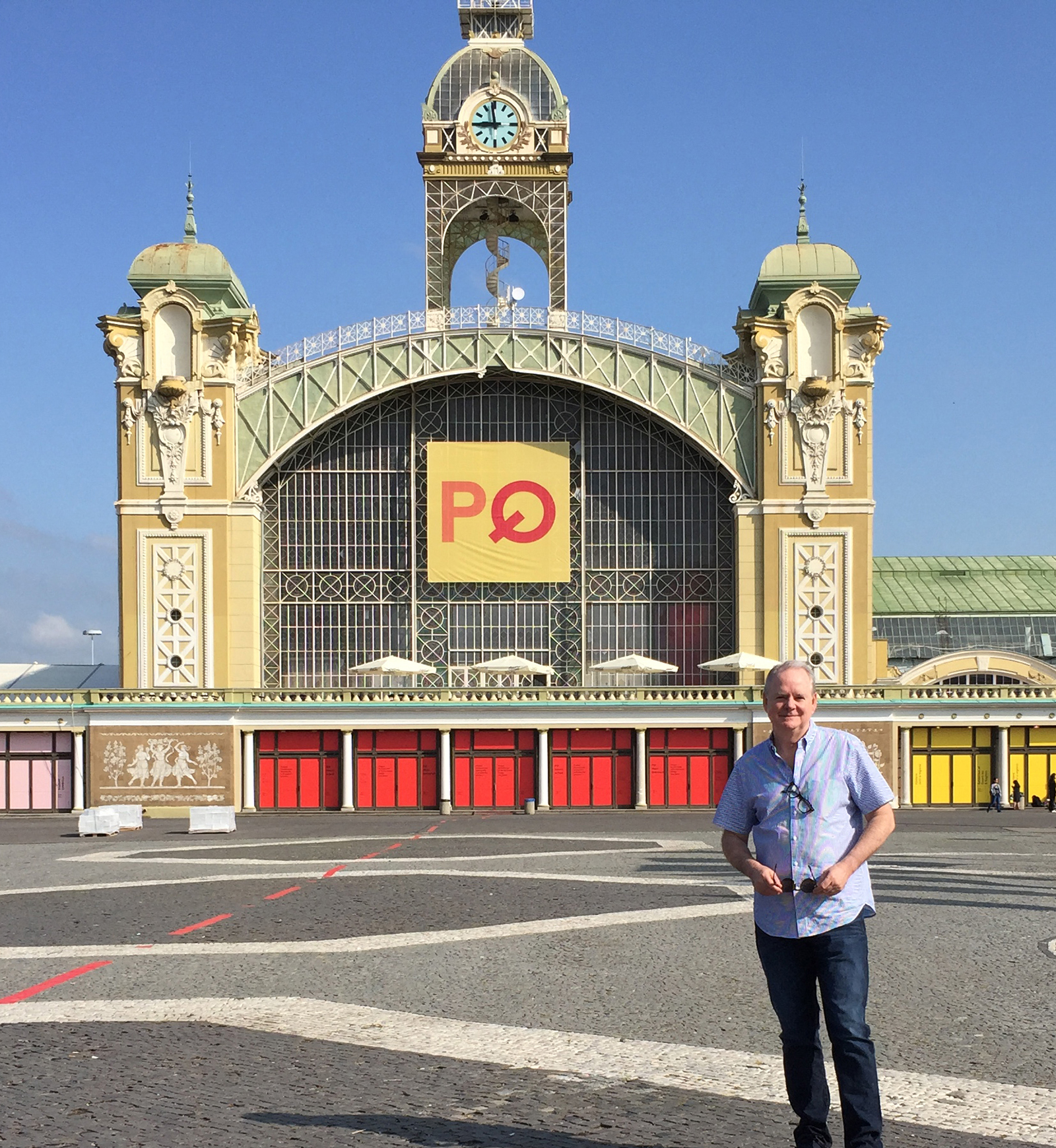 Conway represented the United States as a featured set designer at the 2019 Prague Quadrennial this summer.
By Kate Spanos '16 Ph.D. theatre and performance studies
What makes a compelling set design? For Professor Daniel Conway, designing for theater is about storytelling and creating an emotional landscape that resonates with audiences. This philosophy is central to his teaching and has guided him throughout his professional career, garnering awards and recognition locally, nationally and internationally. Most recently, his set design for Chicago Shakespeare Theatre's 2018 production of "Macbeth" was selected by an international curatorial team to be featured at the 2019 Prague Quadrennial. 
Established in 1967, the Prague Quadrennial of Performance Design and Space (PQ) is considered to be the "Olympics" for designers in performance, scenography and theater architecture. Taking place every four years, the PQ features exhibitions, festivals and programs that bring international designers and artists together to experiment, share ideas and network. Conway traveled to Prague this summer to represent the University of Maryland in the North American exhibition, joining designers and performance artists from 79 countries. I caught up with Professor Conway to learn about his international road trip. 
What did it mean to you to have your work featured among that of your international peers?
Daniel Conway (DC): It was an honor to represent both the United States and the University of Maryland at the PQ. I could see how design in the United States is in conversation with design on an international level. It was inspiring to see how designers around the world are experimenting with cutting edge technology. There was virtual reality, street performance and some incredible puppet creations. I was blown away.
Tell us about your set design for "Macbeth" at Chicago Shakespeare Theatre selected for display at PQ.
DC: It was an exciting project because this production opened up Chicago Shakespeare Theatre's new space last year. To work in a space of such scale was amazing. The play was set in a palace that looked like a forest, with trees up to 38 feet tall. That never happens in theater! The design was simple but bold, and we used classic techniques like trap doors and stage distractions to guide the spectator's eye. Along with that, we had a real magician on set who performed  19th century magic tricks, eliciting gasps from the audience. Magic was integral to the storytelling.
What is your philosophy on involving graduate students in your professional work?
DC: I had two graduate students, Ryan Fox '20 and Grace Guarniere '20, from our M.F.A. design program working with me on the "Macbeth" project. They were involved from the beginning—the very first creative meeting. In most graduate programs students just shadow, but since we are on the cutting edge of design technology at UMD, they actually build models with me. We have equipment like 3D printers and laser cutters, which means that our program leads in advanced model making and visualization.
All of our design faculty involve graduate students in their professional work, usually about three shows per year per faculty member. This helps the students build up their portfolios and break into the professional world after graduation. We're seeing some of our recent alumni win prestigious awards early in their careers, like Emily Lotz '18, who won a Helen Hayes this year.
I brought all of our design graduate students to Chicago for the opening night of "Macbeth," which was a great opportunity for them to see the process from start to finish. Being in the professional space while in school makes their transition that much smoother.
You've won many awards, including four Helen Hayes Awards for Outstanding Set Design. In 2017, you won the Anderson Hopkins Award for Excellence in Theater Arts. What's next for you?
DC: My next project is Doubt, which will be directed by Matt Tourney at D.C.'s Studio Theatre. I might start slowing down on professional projects, but I don't see myself quitting teaching anytime soon. I'm energized by my students and want to be keep mentoring young designers in this field that I love so much.
Inclusion of materials for The Chicago Shakespeare production of "Macbeth" was funded in part by the International Program for Creative Collaboration and Research (IPCCR) at the UMD School of Theatre, Dance, and Performance Studies, where Conway is a professor of design.
Photo: Conway stands in front of the Art Nouveau palace on the Prague Exhibition Grounds where the 2019 Prague Quadrennial took place. The 11-day event drew about 800 designers. Image courtesy of Daniel Conway.