The National Orchestral Institute + Festival Announces its 2021 Festival Lineup
May 26, 2021 The Clarice Smith Performing Arts Center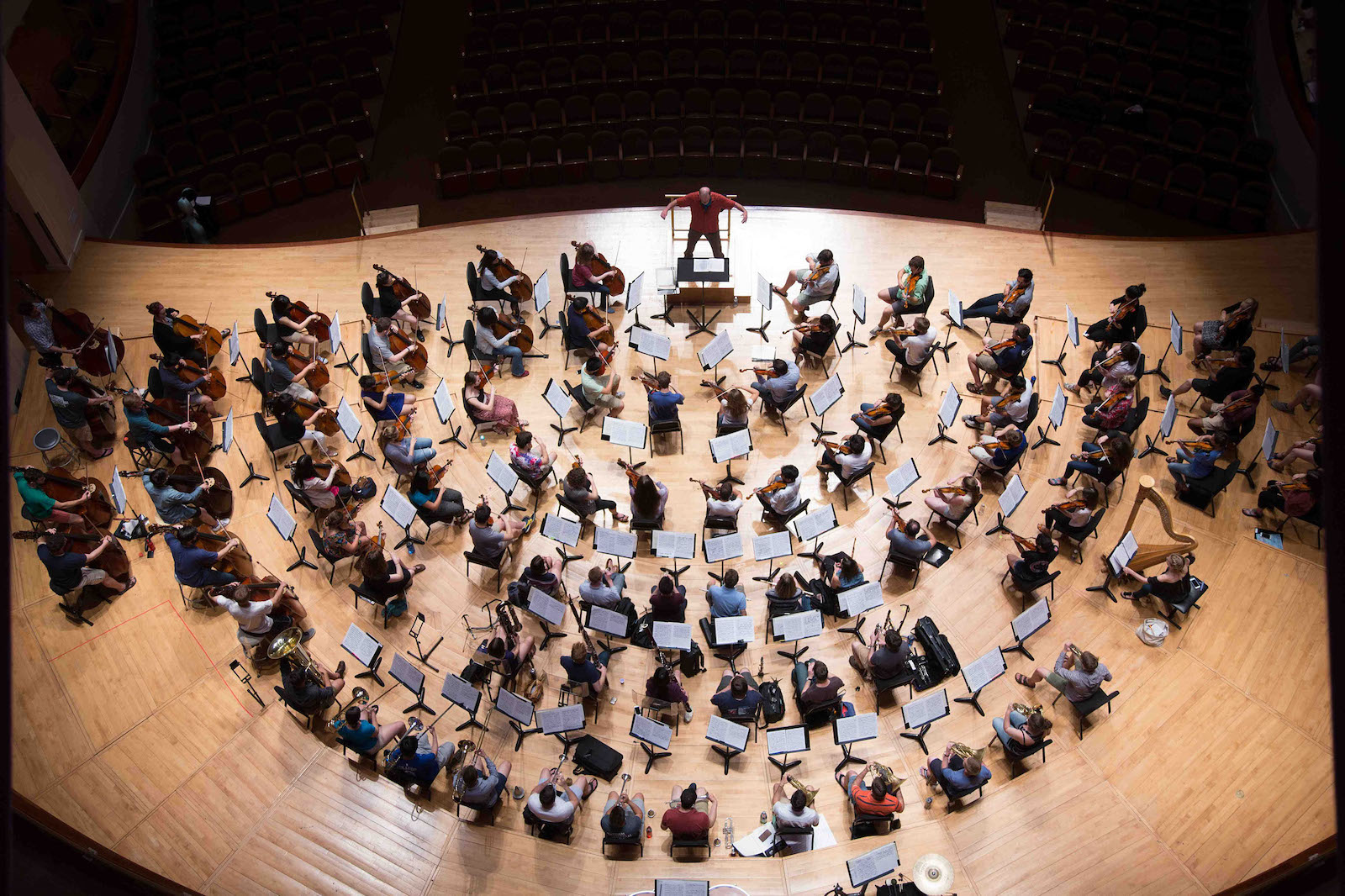 The 34-year-old summer festival welcomes visionary conductor Marin Alsop as new music director and offers in-person and livestream performances.
The National Orchestral Institute + Festival (NOI+F), a program of the University of Maryland's Clarice Smith Performing Arts Center (The Clarice)—that brings together emerging orchestral musicians from across the country—announces its 2021 festival lineup today. From June 4 to 26, students will participate in intensive rehearsals, masterclasses, seminars and performances with some of the nation's top musicians from symphony orchestras and conservatories. Students will work with seven conductors, who change weekly, and play under their direction during public performances at the end of each week. This summer marks the inaugural season of trailblazing conductor Marin Alsop as NOI+F's first-ever music director. She will conduct two concerts during the month and also launch the NOI+F Conducting Academy.
One of the nation's leading summer festivals, NOI+F is thrilled to offer both an in-person and livestream experience for audiences and to welcome NOI+F participants to The Clarice after a virtual festival last summer due to the COVID-19 pandemic. 
"This year's festival will be a joyous return to the stage for our talented student musicians, and a much anticipated welcome for our visionary Music Director Marin Alsop," said Richard Scerbo, director of NOI+F. "The opportunity to perform for our community and welcome guests back to our hall is something we have been looking forward to for a long time."
Conductors this year include Alsop; David Alan Miller, longtime NOI+F collaborator and Albany Symphony music director; Craig Kier, director of the University of Maryland (UMD) School of Music's Maryland Opera Studio and artistic and music director of the Annapolis Opera; Kenneth Slowik, artistic director of the Smithsonian Chamber Music Society and UMD School of Music faculty member; Andrew Grams, frequent NOI+F guest and music director of the Elgin Symphony; Ruth Reinhardt, a dynamic young conductor; and James Ross, former artistic director of NOI+F and UMD School of Music faculty and now music director of the Alexandria Symphony Orchestra. 
Ross will serve alongside Alsop as a faculty member of the first NOI+F Conducting Academy, which gives six emerging conductors the opportunity to attend seminars, sessions and labs under their tutelage. On June 25, the fellows will conduct works written by NOI+F's inaugural composition fellows during the "New Directions" concert. The NOI+F Composition Academy is a partnership with American Composers Orchestra and composer Gabriela Lena Frank and her Creative Academy of Music and is dedicated to furthering the training and development of emerging composers, especially those traditionally underrepresented in the orchestral repertoire. 
Recognized internationally for her innovation and mentorship, Alsop's programming encompasses both audience favorites from the standard repertoire, while also spotlighting new American and contemporary composers as NOI+F's music director. NOI+F concerts feature works by a diverse group of composers.
"I am so excited to work with these brilliant young musicians this summer and to conduct these poignant and inspiring pieces—as we create a vibrant future for orchestras," said Alsop. 
Alsop served as a guest conductor for NOI+F from 1993-2000 and will make her debut in her new role as music director on June 24 when she conducts "Beethoven's Pastoral Symphony" at Wolf Trap National Park for the Performing Arts as part of their Thank You Community Concert Series. The series offers free concerts for area frontline healthcare and education workers and volunteers in recognition of their heroic efforts over the past 15 months. Inspired by nature, the program features NOI+F alumna Jessie Montgomery's "Caught by the Wind," portraying the planets' various natural cycles; UMD School of Music alumnus Nathan Lincoln-DeCusatis' "The Maze," capturing the beauty of Utah's vast Canyonlands National Park; and Beethoven's Symphony No. 6 in F major, Op. 68, "Pastoral,'' journeying through various landscapes from serene brook to thunderous storm. Utah Symphony Concertmaster Madeline Adkins, an NOI+F alumna who worked with Alsop as a student in 1997 and 1998, commissioned "The Maze" and will play violin during this world premiere performance.
On June 26, Alsop conducts a program at The Clarice that includes "Pulse," a contemplation of our world's natural rhythms, by NOI+F's Composer Training Program Faculty Member Brian Raphael Nabors; "Desert Transport," that captures an Arizona landscape from a helicopter's perspective, by Mason Bates; and Rimsky-Korsakov's "Scheherazade," inspired by the collection of medieval Middle Eastern folk tales "One Thousand and One Nights."
NOI+F is also partnering with the UMD School of Music's Maryland Opera Studio (MOS) to present "Owen Wingrave." Composed by Benjamin Britten, the opera is based on a short story of the same name by Henry James and touches on themes of legacy, family, rebellion and the supernatural.  Conducted by Craig Kier and directed by Amanda Consol, MOS' director of acting, the opera will star MOS alumni and current students.
"For many musicians, NOI+F will be one of their first opportunities to perform for a live audience since the COVID-19 pandemic began," said Erica Bondarev Rapach, acting executive director of The Clarice. "Performing in person is invaluable to musicians' education, and as part of a major research university, NOI+F serves as a laboratory for creation and innovation. We can't wait to welcome musicians and audiences back."
In-person tickets are limited and available for purchase. Audiences also have the option to stream NOI+F concerts from home. The full schedule of NOI+F performances and ticket information is available here. 
About the National Orchestral Institute + Festival
The National Orchestral Institute + Festival, a program of the University of Maryland's Clarice Smith Performing Arts Center (The Clarice), trains aspiring orchestral musicians, composers, conductors and arts administrators from across the country in a month of dynamic music-making and professional exploration. Musicians are chosen through a rigorous, cross-country audition process. Every year, these young artists present passionate and awe-inspiring performances of adventuresome repertoire at The Clarice. In 2019, conductor David Alan Miller and the NOI+F Philharmonic received a Grammy nomination in the "Best Orchestral Performance" category for their Naxos recording "Ruggles, Stucky, Harbison."
About Marin Alsop
One of the foremost conductors of our time, Marin Alsop is internationally recognized for her inspiring artistry, innovative programming, deep commitment to education and audience development, and powerful advocacy for the importance of music. The first woman to serve as the head of a major orchestra in the United States, South America, Austria and Britain, she currently serves as chief conductor of Austria's ORF Vienna Radio Symphony Orchestra, conductor of honor of Brazil's São Paulo Symphony Orchestra and the first chief conductor and curator of Chicago's Ravinia Festival, where she curates and conducts the Chicago Symphony Orchestra at its annual summer residency. In her 14-year tenure as music director of the Baltimore Symphony Orchestra, she led the orchestra's first European tour in 13 years, conducted more than two dozen world premieres and founded multiple change-making initiatives, including OrchKids, a music education program for the city's most disadvantaged youth. She was music director of California's Cabrillo Festival of Contemporary Music for 25 years and has long-standing relationships with the London Philharmonic and London Symphony Orchestras. She also regularly guest conducts such major international ensembles as the Cleveland Orchestra, Philadelphia Orchestra, Leipzig Gewandhaus Orchestra, Royal Concertgebouw Orchestra, Orchestre de Paris, Filarmonica della Scala and Orchestra of the Age of Enlightenment.
Alsop founded the Taki Alsop Fellowship, which promotes and nurtures the careers of emerging female conductors, and has launched a host of pioneering initiatives to broaden access to the classical world, often with special focus on underserved communities. These include multiple projects in collaboration with Carnegie Hall, including "All Together: A Global Ode to Joy;" a worldwide celebration of community to mark Beethoven's 250th anniversary, this saw her reimagine the composer's iconic Ninth Symphony for 21st-century audiences in partnership with ten orchestras at leading venues on six continents.
Recognized with multiple Gramophone Awards, Alsop's extensive discography includes highly praised Naxos cycles of Brahms with the London Philharmonic, Dvořák with the Baltimore Symphony and Prokofiev with the São Paulo Symphony, as well as recordings for Decca, Harmonia Mundi and Sony Classical. The first and only conductor to receive a MacArthur Fellowship, she has also been honored with the World Economic Forum's Crystal Award, which recognizes her championship of diversity in the classical world. Amongst many other awards and academic positions, she is director of graduate conducting at the Johns Hopkins Peabody Institute in Baltimore.
Top photo by Geoff Sheil. Marin Alsop photo by Adriane White.