Dance and Design Coalesce in "UMoves"
May 09, 2019 School of Theatre, Dance, and Performance Studies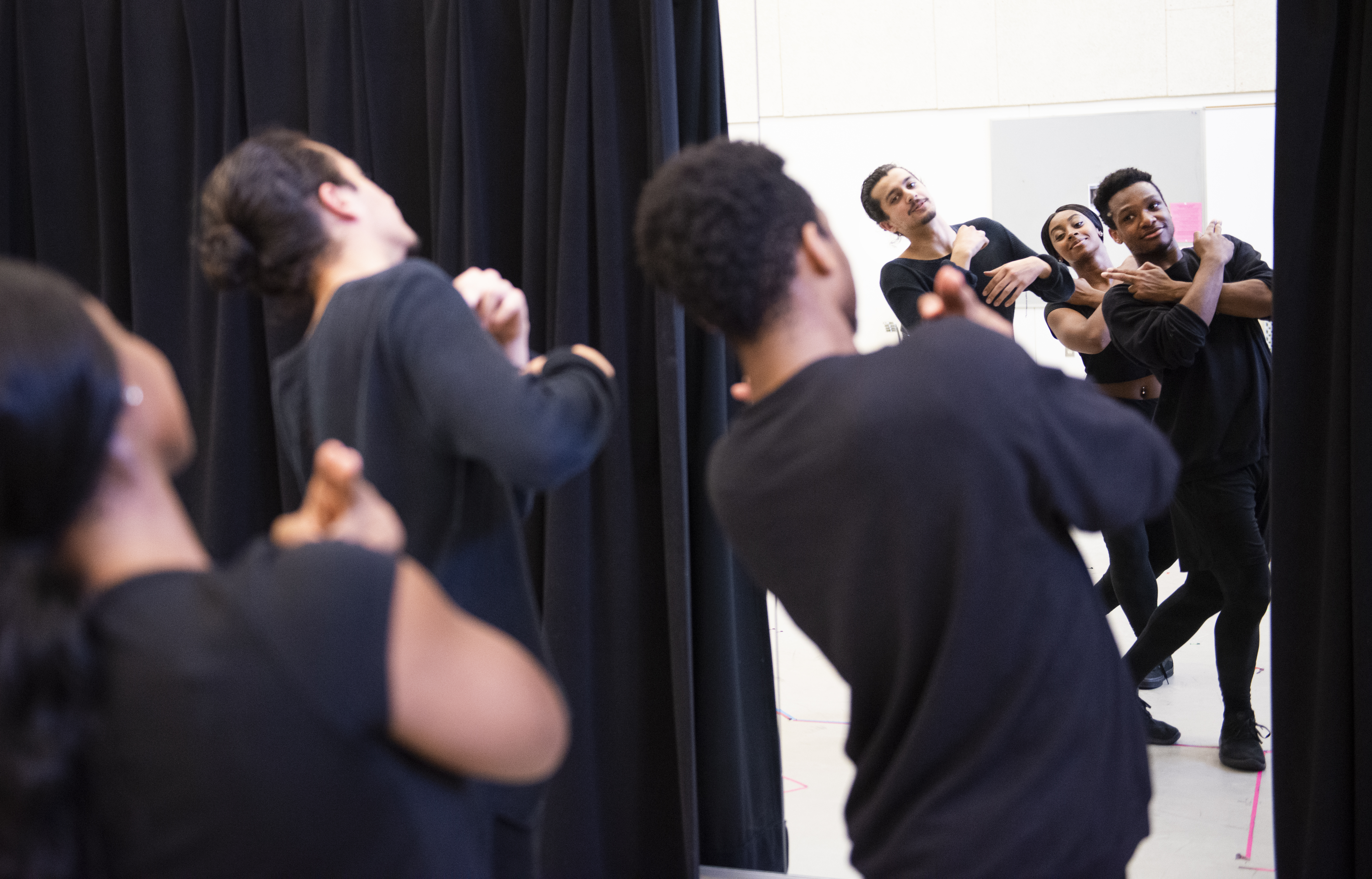 Dance concert preps undergraduates for professional dance world.
By Sarah Snyder | Photos and video by David Andrews
Childish Gambino's "Zealots of Stockholm" vibrates from a speaker as five dancers lift their heads in unison. The track shifts tone almost violently. An intense, muffled beat replaces the slow and lingering intro, and the dancing explodes. Bodies jerk. Contort. Shoulders slump in an almost zombie-like movement, and, then in a breath, the choreography becomes slow and hauntingly beautiful.
Angad Kalsi '19, dance and psychology, has spent over three months creating this movement. He is one of 11 undergraduate choreographers debuting his dance piece in "UMoves," the UMD School of Theatre, Dance, and Performance Studies' annual undergraduate dance concert.
As part of the "UMoves" process, Kalsi has been researching, choreographing and collaborating with dancers and designers to present "-tion," an exploration of what he describes as "the polarization in society connected to globalization, extremism and the internet." Kalsi's collaborative piece was selected by TDPS faculty after auditioning and submitting a written proposal.
"The collaboration aspect of "UMoves" is extremely fulfilling," says Kalsi, who is participating for his third year. "You learn to communicate with dancers and designers, deal with roadblocks and bring your artistic vision to life. It's an initiation to producing your own work in the professional dance world."
As part of the creative process, undergrad choreographers work with an official graduate or faculty mentor. Kalsi has gained invaluable feedback throughout his process working with Ama Law, a third-year M.F.A dance candidate. He has also collaborated closely with his other four dancers and with a design team that includes lighting designer Christopher Brusberg, a third-year M.F.A. candidate; projection designers Jacob Hughes, a first-year M.F.A. candidate, and Sydney Lemelin '20, dance and information science majors; and costume designer Jasmine Mitchell '20 theatre major.
This piece marks Mitchell's first opportunity to design for a show, applying what she's learned from a costume design class. She chose to incorporate gas masks to symbolize the suffocating tensions in today's politics and to suggest feelings of breathlessness trying to fit into societal norms.
"It's so exciting as a costume designer to see how I helped inform Angad's creative process," says Mitchell. "Now there's a part in the piece where dancers utilize the gas masks I suggested, and I'm like 'wow, I helped build choreography in a way.'"
Tied to the exploration of socio-political themes, Kalsi's work is inspired by the famed visual artist Jean-Michel Basquiat, who consistently offered social commentary through his masterpieces.
"He had a very erratic, chaotic yet organized method of creating his artwork," says Kalsi. "I'm challenging aspects of that by creating movement that has sharp and jagged intricacies, but also consistent flow."
Before declaring as a dance major, Kalsi's dance background was rooted in hip hop. He credits his growth as a dancer and choreographer to the encouragement and mentorship he received from faculty and graduate mentors.
"The dance department has been tremendously supportive of my background while pushing me in other forms," says Kalsi. "It's been rewarding to find my own voice and share that with people."
"UMoves: Undergraduate Dance Concert," presented by the UMD School of Theatre, Dance, and Performance Studies, is performed May 10-12 at The Clarice. Tickets are available here.