Ahamefule J. Oluo Pays Tribute To His Mom
February 07, 2020 The Clarice Smith Performing Arts Center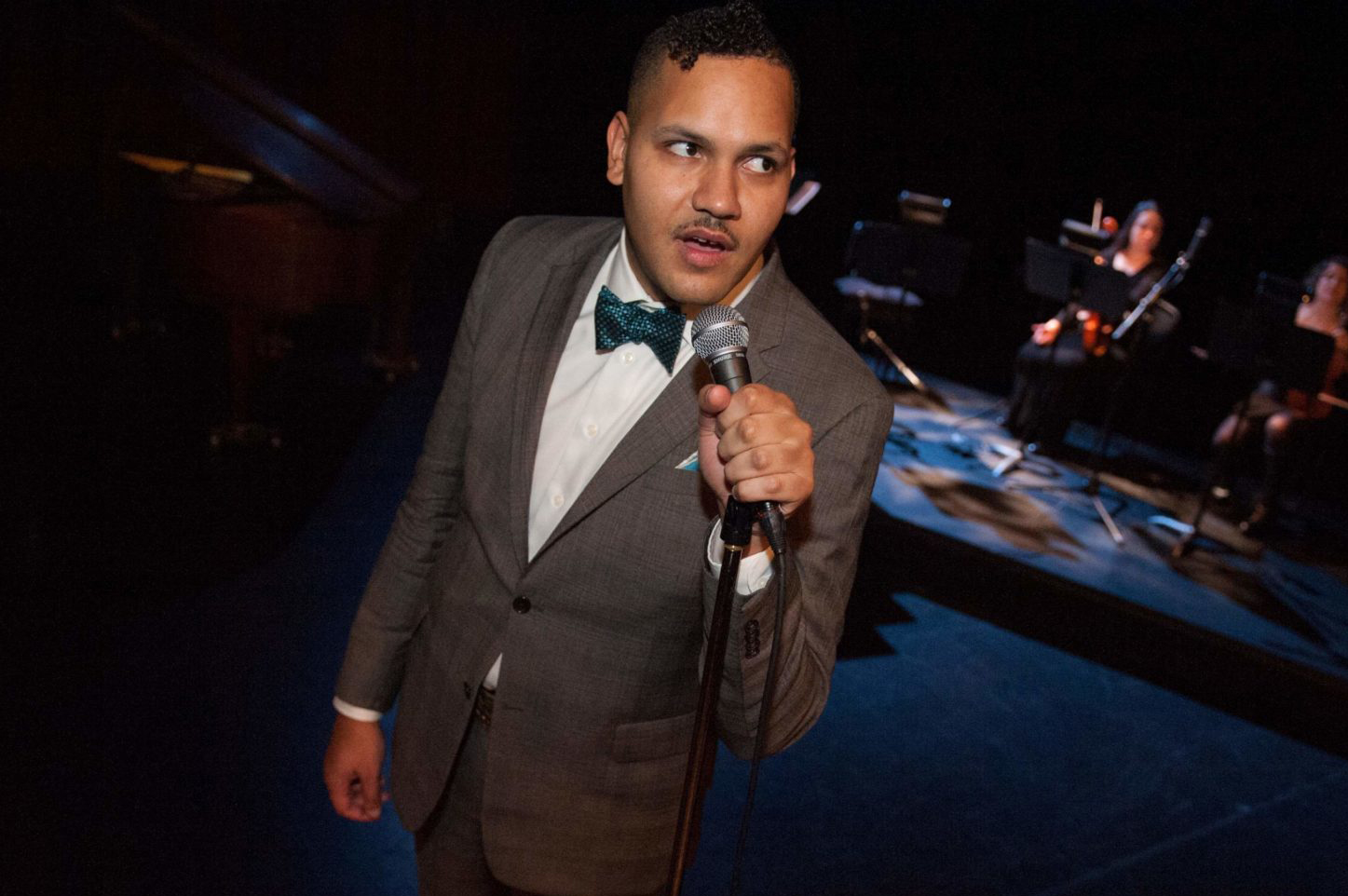 New show "Susan" explores parenting, vulnerability and creativity.
By Carlos Howard '16
Trumpeter, composer and standup comedian Ahamefule J. Oluo has an extraordinary ability to take some of the most personal, raw moments of his life and turn them into poignant, uplifting and even hilarious art. His newest show, "Susan," centers on his Midwestern mother after his Nigerian father left the family.
Featuring seven musicians, comedy and the powerhouse vocals of singers okanomodé and Tiffany Wilson, "Susan" glimpses into Oluo's journey from living in low-income housing in Seattle to traveling to his father's terrorist-controlled village in Nigeria, on a quest to track his lineage.
At times, the story is even told by Susan herself.
It's a follow up to Oluo's 2017 jazz memoir "Now I'm Fine," which debuted at The Clarice in 2017, and focused on Oluo's father.
"I saw quite a few shows about absent fathers and absent men in general," says Oluo. "That got me thinking about where I could take the idea of my mom's parenting."
The result is, as Oluo describes, "a tragedy about the most comically optimistic person on earth."
We spoke to Oluo about the creation of "Susan."
What was your artistic process like when creating "Susan"?
I keep my process as organic as possible. I start with an emotion I want to convey and then keep my "antenna" up for any joke and music ideas. Then comes the long process of testing things. I test and tighten jokes pretty rigorously. When you're working with a more serious subject matter, it becomes harder to get a laugh. So, the only way to know if they actually work is to try them. Music, on the other hand, is more seamless of a process for me. With music, I very easily know when it's done or when it needs more work.
How has the creation of "Susan" made you evolve as an artist and storyteller?
My first work, "Now I'm Fine," had lots of lighting, hard music and a complex set, so it wasn't really sustainable. When I started putting together "Susan," I wanted to create a show that was flexible but sensitive. "Now I'm Fine" featured smaller stories about my mom. Those had a really special feeling, and I knew I had to focus on them.This time, though, the experience is really centered around the stories and the songs–I want people to have a content-based experience.
What is the role of vulnerability in your piece? How did it impact your creative process?
The vulnerability in "Susan" isn't necessarily mine. I'm sharing my mom's vulnerability, which presents different challenges. I have to be careful with it, but I can also say things more bluntly than I could say things about myself. My mom attended every work-in-progress performance. That made vulnerability tangible. I would have to share these stories right to my mom's face. She was right there, looking directly at me. But, the way that she just seemed to glide with it and take things with ease, inspired me and made me more comfortable to be more vulnerable about myself.
The piece touches on parenthood, heritage and identity. All very complex topics. Why do these issues resonate so deeply in your work? And, how do these issues connect us as human beings?
I never know what individual connections people will draw with my pieces. That said, I think that part of this is that everyone connects with their parents or their family in ways that only happen to them. There's something universal about the unique interactions between parents and children that are very specific and special to every person. We all have unique stories about our parents. That's how "Susan" connects us.

Ahamefule J. Oluo's "Susan" will be performed on February 7 and 8 at 8 p.m. at The Clarice, as part of the Visiting Artist Series Tickets are available here.
Photo credit: Bruce Clayton Tom.