2020-21 New Faculty Appointments
October 09, 2020 College of Arts and Humanities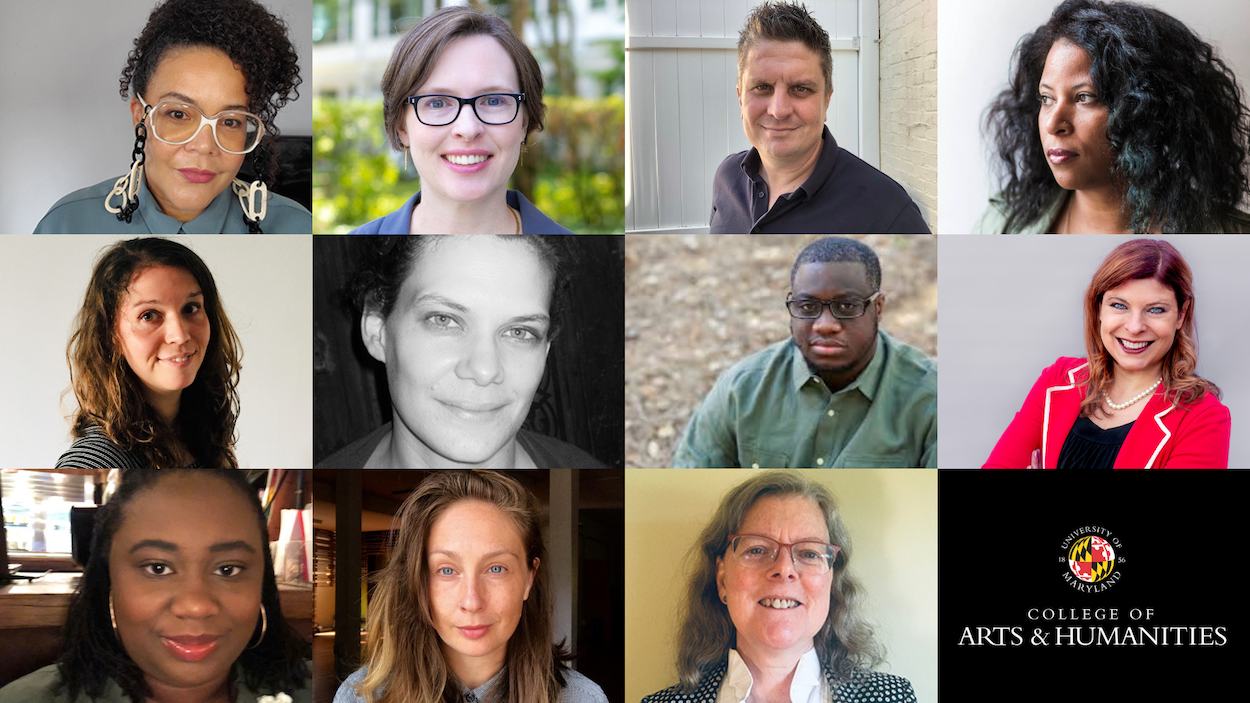 The college welcomes a new faculty cohort.
By ARHU Staff
The College of Arts and Humanities is excited to welcome a new faculty cohort to the University of Maryland.
Department of American Studies and the Harriet Tubman Department of Women, Gender, and Sexuality Studies
Eva Hageman, Assistant Professor  
Eva Hageman earned her doctorate in American studies with a joint certificate in culture and media through the Departments of Anthropology and Cinema Studies from New York University. Prior to joining the faculties of the Department of American Studies and the Harriet Tubman Department of Women, Gender, and Sexuality Studies, Hageman held a two-year President's Postdoctoral Fellowship at Maryland. Her research and teaching focus on race, gender and media production. Her book manuscript, "'Relatable Meets Remarkable': Crafting Race in the Reality Television Industry," examines the central role reality television plays in shaping articulations of race in the 21st century. In 2019, her writing was included in the collection "Racism Postrace" (Duke University Press), and her video essay "shiplap" was screened at the Black Film Center Archive at Indiana University. She has directed two documentaries, "Legendary" (2010) and "You, As Seen on TV" (2011).
Department of English
Marisa Parham, Professor  
Marisa Parham earned her doctorate in English and comparative literature from Columbia University. Her research explores texts and technologies that problematize assumptions about time, space and bodily materiality, focusing on how such terms share a history of increasing complexity in texts produced by African Americans, thus expanding intersectional approaches to digital humanities. She is currently developing "Black Haints in the Anthropocene," a born-digital book about digitality and Black environmental experience. From 2001 to 2020, Parham served as professor of English and faculty diversity and inclusion officer at Amherst College, where she was awarded the inaugural teaching award in 2018. She is also a former director of Five College Digital Humanities. 
Rion Amilcar Scott, Assistant Professor
Rion Amilcar Scott earned his master of fine arts from George Mason University. He is the author of the story collection, "The World Doesn't Require You" (Norton/Liveright, August 2019), a finalist for the PEN/Jean Stein Book Award. His debut story collection, "Insurrections" (University Press of Kentucky, 2016), was awarded the 2017 PEN/Bingham Prize for Debut Fiction and the 2017 Hillsdale Award from the Fellowship of Southern Writers. His work has been published in magazines and journals such as The New Yorker, Kenyon Review, Crab Orchard Review and The Rumpus, among others. One of his stories was listed as a notable in "Best American Stories 2018," and one of his essays was listed as a notable in Best American Essays 2015. At George Mason University, he won the Mary Roberts Rinehart award, a Completion Fellowship and an Alumni Exemplar Award. He has also received fellowships from Bread Loaf Writers' Conference, Kimbilio and the Colgate Writing Conference, as well as a 2019 Maryland Individual Artist Award. 
Cecilia D. Shelton, Assistant Professor 
Cecilia D. Shelton earned her doctorate in rhetoric, writing and professional communication from East Carolina University. She is a technical and professional communication scholar whose work is situated at the intersections of digital and cultural rhetorics. Drawing on Black feminist theory and praxis, her research prioritizes the perspectives, goals and experiences of Black people (and other communities structured into the margins) as a way to insist on more equitable solutions to contemporary social, political and organizational problems. Her dissertation work argues that Black digital activism is a kind of technical communication and offers a methodology that enables a cultural rhetorical framing of technical and professional communication.
Department of History
Melinda Baldwin, Associate Professor
Melinda Baldwin earned her doctorate in history from Princeton University. With a specialization in the history of scientific publishing and scientific grants, she joins the Department of History as the American Institute of Physics Endowed Professor in the History of Natural Sciences. She has held academic positions at York University, Harvard University and the American Academy of Arts and Sciences. In addition to serving as the books editor at Physics Today, she is currently working on a book about the history of scientific peer review. 
Department of Philosophy 
Fabrizio Cariani, Associate Professor 
Fabrizio Cariani earned his doctorate in logic and methodology of science from the University of California, Berkeley. His research focuses on the nature and mechanics of language, rational judgment and decision making and logic. He has recently completed a book on the topic of future-directed thought and talk, "The Modal Future,"  to be published by Cambridge University Press. He is the author of multiple award-winning publications and the recent recipient of a Mellon Foundation New Directions Fellowship, aimed at establishing an interdisciplinary scholarly profile on the nature of prediction intersecting developments in philosophy, computer science, statistics and psychology. Prior to coming to Maryland, Cariani was associate professor of philosophy at Northwestern University.   
School of Languages, Literatures, and Cultures
Anny Gaul, Assistant Professor 
Anny Gaul earned her doctorate in Arabic and Islamic studies from Georgetown University. She specializes in food and gender history in Egypt and Morocco. Her current book project is a cultural history of modern North Africa narrated through the space, affects and language of the home kitchen. For her doctoral project she spent 18 months conducting archival and ethnographic research supported by the Social Science Research Council, the Council of American Overseas Research Centers, the American Research Center in Egypt and the American Institute for Maghrib Studies, among others. Gaul was previously a postdoctoral fellow at Tufts University.
Maria Beliaeva Solomon, Assistant Professor
Maria Beliaeva Solomon earned her doctorate in French literature, thought and culture from New York University. A specialist of 19th-century French literature, she is interested in digital humanities as a paradigm for exploring questions of authorship, poetics and materiality from the print era to the digital age. She is currently revising for publication the dissertation, "Grimaces et Convulsions: le Romantisme aux lendemains de 1830." Beliaeva Solomon's book project, published articles and works-in-progress are framed by considerations of the marketplaces that texts and bodies shared in the Romantic period. Before joining the University of Maryland she taught at New York University, NYU Paris and Rutgers University. 
School of Music
Robin Giebelhausen, Assistant Professor
Robin Giebelhausen earned her doctorate in music education from Michigan State University. Her research interests include music education policy, secondary general music, gender issues in music and music creativity pedagogy. She has published on these topics in General Music Today, International Journal of Music Education, Journal of Research in Music Education and in her eBook, "Ukulele for Music Teachers." She is currently working on a research project documenting music education policy in New Mexico. Prior to arriving at Maryland, Giebelhausen taught at the University of New Mexico and in K-12 schools in Illinois and Michigan.
Gretchen Horlacher, Associate Professor 
Gretchen Horlacher earned her doctorate in music theory from Yale University and taught at Indiana University for 25 years. She studies the music of Igor Stravinsky, theories of rhythm and meter and, more recently, how musical and dance analysis relate. Her book "Building Blocks: Repetition and Continuity in the Music of Igor Stravinsky" was published in 2011 by Oxford University Press, and she is co-editor of "The Rite of Spring at 100" (Indiana University Press, 2017), which received the Ruth A. Solie Award from the American Musicological Society. Horlacher is currently creating a freshman music theory course which integrates early African American music. She serves as vice president of the Society for Music Theory. 
School of Theatre, Dance, and Performance Studies
Kendra Portier, Assistant Professor
Kendra Portier earned a master of fine arts degree from the University of Illinois, Urbana-Champaign. Joining Maryland as the Maya Brin professor in dance, Portier is a dance artist. She creates live-performances that meld lighting, sound and rigorous dancing. Recent works include her Color Studies, a multi-installment investigation of color + choreography ("Burnish: Magenta #03-08, High Violet, Untitled Vital Glacier" (in-process)). Portier has an extensive teaching roster featuring numerous guest and faculty positions across the globe, including San Diego, Salzburg, Dushanbe, Athens (Greece, Georgia and Ohio) and the Bates Dance Festival. Portier has performed with BalletMet, David Dorfman Dance and a range of experimental artists.