Explore ARHU on Maryland Day 2019!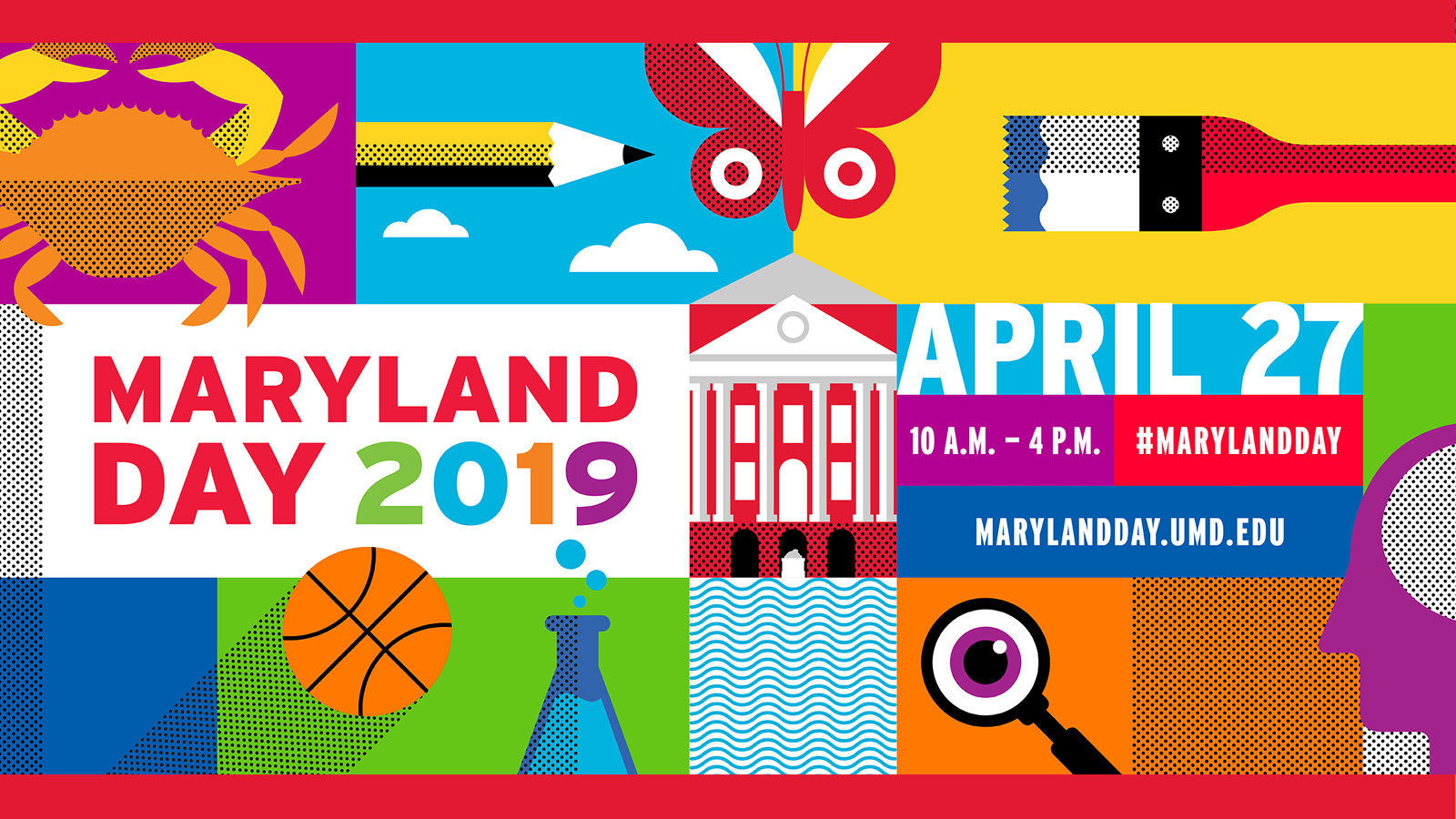 Explore ARHU on Maryland Day 2019!
College of Arts and Humanities
Saturday, April 27, 2019 10:00 am-4:00 pm
Various
Explore what the College of Arts and Humanities (ARHU) has to offer at Maryland Day on Saturday, April 27, 2019, 10 a.m to 4 p.m. ARHU is represented across campus on Maryland Day with nearly 100 events in the performing and visual arts, history, languages, literatures and cultures. Check out our exciting schedule of events by neighborhood below. Admission and parking are free. For more information on what's happening campus wide, visit Maryland Day 2019.
TERP TOWN CENTER
Arts & Humanities Tent
Explore ARHU!
Meet current ARHU students and advisers as they help guide you through our space filled with artists, writers and humanists. ARHU can help you explore your passion, broaden your mind and embrace your role in the world. This is where global visionaries and creative problem solvers are born. 
Celebrity Wheel
Spin the celebrity prize wheel and guess the major each famous person studied in college! 
Philosophical Advice: $.05
The philosopher is in. Bring your philosophical questions to members of our philosophy department. Nickels are free. 
Discover the Latin American Studies Center
Test your knowledge and learn some fun facts about Latin America and the Caribbean in these six categories: pop culture, history, geography, sports, politics and wild card. Guess correctly and win a prize. 
Global Professionals: Arabic and Persian
Explore UMD's Global Professional programs in Arabic and Persian, where students learn from cutting-edge language curricula. Enjoy henna art, tasty snacks, have your name written in Arabic or Persian, and more! 
Write Your Name in Greek and Latin!
Stop by to learn how to write your name and introduce yourself in Greek and Latin! 
Put Yourself on the Map!
Learn about the history of immigration to Maryland and participate in a map-building project where you can record and preserve your own compelling story that illustrates the ethnic diversity in Maryland. 
History Jeopardy!
Do you know who the 11th President of the United States was?  Maryland's state flower? Maryland-born African-American abolitionist who has a statue on the campus? Come test your knowledge with History Jeopardy. 
ArtsWalk UMD
Take a walking tour of the arts! Visit the campus' five art galleries, a state-of-the-art performing arts center, and explore how students create diverse and compelling works across a broad spectrum of art forms. Co-sponsored with the STAMP Gallery. 
Color your Robot! 10 a.m. - 1 p.m.
Prepare for The Clarice's Robot Dance Party by using your favorite colors to give life to an out-of-this-world robot!
Junkyard Instrument Experimentation 1 - 4 p.m.
Construct a wacky instrument out of PVC pipes, then give playing it a try. You never know what sound you'll make!
Skinner Patio
Explore our Multilingual World
Translators and interpreters make communication possible in our globally connected world. The Graduate Studies in Interpreting and Translation program is training the next generation of these talented language professionals. Learn about consecutive interpreting and translation, and visit the simultaneous interpreting lab where student interpreters are at work. 
Pitch Your Fearless Idea
Get your creative juices flowing by pitching your fearless idea in two minutes to the Oral Communication Center's trained peer consultants, who will record your presentation, give you feedback and send you the recording. 
Stamp Student Union
Arts Fest 2019
The Atrium, Adele H. Stamp Student Union
Join the College Park Scholars Arts program for its annual exhibition of student-produced artwork.  The event also features select student performances and a wide variety of creative capstone projects on display.  
David C. Driskell Center: Cole Student Activities Building 
"Posing Beauty in African American Culture"
This exhibition examines the contested ways in which African and African American beauty has been represented in historical and contemporary contexts through a diverse range of media. 
St. Mary's Hall, Ground Floor
Experience and Learn 10 Languages
Language House, St. Mary's Hall, 10 a.m. - 2 p.m.
Come and experience 10 languages and cultures through games and activities, and tour the Language House. 
ART & DESIGN PLACE
The Clarice Smith Performing Arts Center
Various Locations at The Clarice
Be creative at the Clarice Smith Performing Arts Center, where you can play with props and set pieces, get your robot groove on and take in live performances. Find more fun hosted by the School of Music; School of Theatre, Dance, and Performance Studies; the Artist Partner Programs; and the Michelle Smith Performing Arts Library. For a full list of performing arts events on Maryland Day, visit The Clarice.  
Tawes Plaza
Books and Blankets
Take some time to read in public! Literature for all ages and blankets for kicking back. 
Chalk Talk 10 a.m. - 3 p.m.
Inscribe your favorite quotations on Tawes Plaza in chalk. Stop by the Department of English table, refer to anthologies and literature collections, and leave behind your favorite poetry or prose questions. 
Temporary Literary Ink
Inscribe and inspire yourself with a special temporary tattoo featuring some of the English department's favorite authors and quotations. 
Make Your Mark! 10 a.m. - 3 p.m.
Typeset a bookmark on BookLab's Gutenberg-style letterpress. 
Page to Stage 11 a.m. - 1 p.m.
Perform lines from a monologue, coached by English faculty. 
Spotlight on English Alumni 10 a.m. - 3 p.m.
Complete a survey, provide a profile and reconnect with the Department of English. 
WordPlay 10 a.m. - 3 p.m.
Literary MadLibs! Quotation Station! Build a Poem! And other ways to have fun with words. 
Writing Technologies Through Time
From clay tablets and scrolls to typewriters and computers, take a look at the tools used to write over time.
Cognitive, Neuroscience and Language Science Tent
Optical Illusions
Sometimes our minds trick us into seeing things that aren't actually there.  Learn more about how we're able to see the world around us with optical illusions! 
Using Multiple  Senses
Participate in our jellybean demo to learn how using more than one sense is important for taste! 
Neuroscience Crafts Table
Learn about neurons, the cells of the brain and the brain itself by coloring in a brain cap and making pipe cleaner neurons. 
Think of Children
How do babies learn their first words? Stop by and try to learn some mystery words to see just how hard the problem facing young learners is.
What are Cognitive, Neuroscience  and Language Science?
Meet the researchers who study the brain, the mind and language. Learn what they study and what their research can tell you about yourself! 
Language Party Tricks
Learn some neat mind tricks related to language. You'll discover that they show how human language systems work and how language is interpreted in the brain. 
Bilingualism and Second Language Acquisition
Did you know that over half of the world is bilingual? Learn how the languages differ in sometimes unexpected ways. 
Language Diversity
Amy Adams in "Arrival" succeeded in deciphering an alien language because she researched under-described languages. Do you think you have what it takes to be a field researcher? Come find out! 
Art/Sociology Building
Department of Art Honors Thesis Exhibition
Herman Maril Gallery, Art-Sociology Building (ASY 1309)
This show features student artists working in a variety of media from painting, to prints, to installation and videos. 
2019 M.F.A. Thesis Exhibition
University of Maryland Art Gallery, Art-Sociology Building (Atrium, 2nd Floor)
The "2019 M.F.A. Thesis Exhibition" features work by UMD Department of Art MFA students graduating in the 2018-19 academic year, and showcases cutting-edge graduate research that utilizes a myriad of new approaches in art-making.  
M.F.A. in Creative Writing Readings
The University of Maryland Art Gallery, Art-Sociology Building (ASY 2202), Noon–1 p.m.
Listen to M.F.A. candidates and alumni present their work.