UMD Scholar Honored for Innovative Work on African American Theatre, Civil Rights and Inclusion
May 23, 2018 College of Arts and Humanities | English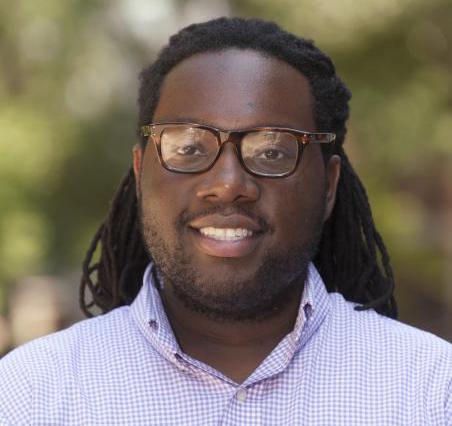 Highly competitive awards reflect Julius B. Fleming, Jr.'s exceptional scholarship.
Julius B. Fleming, Jr., assistant professor of English in the College of Arts and Humanities (ARHU), has been named a 2018 Nancy Weiss Malkiel Scholar by the Woodrow Wilson National Fellowship Foundation and recognized as a 2018 Emerging Scholar of The African Diaspora by the Comparative & International Education Society (CIES).
Both awards are highly competitive and reflect Fleming's exceptional scholarship as well as his commitment to building a more inclusive academic community.
The Malkiel Scholars Award is funded by The Andrew W. Mellon Foundation and administered by the Woodrow Wilson National Fellowship Foundation. It supports junior faculty whose research focuses on contemporary American history, politics, culture and society, and who are committed to the creation of an inclusive campus community for underrepresented students and scholars.
"These ten Malkiel Scholars represent both research excellence and an extraordinary commitment to mentoring students and serving their campuses and professions," said Stephanie J. Hull, executive vice president and chief operating officer of the Woodrow Wilson Foundation.
The CIES Emerging Scholar of the African Diaspora Award is given annually to exceptional scholars and artists whose work has positively impacted the educational, economic and artistic lives of African descendants across the African diaspora.
The CIES panel of judges praised Fleming for his "creativity, inventiveness and vision" and noted his "commitment to mentorship and diversifying the academic realm."
Fleming is an expert in African diasporic literature and culture with a particular interest in performance studies. His first book manuscript, "Black Patience: Performance and the Modern Civil Rights Movement," explores civil rights activism through theatrical performances.
Because African Americans were historically denied access to education and writing, Fleming says that studying the relationship between performance and activism offers insight into how African Americans have created alternative ways of expressing ideas about freedom.
"Dance, a civil rights march, protesters sitting at lunch counters demanding equality—all of these actions are performances," he said. "They all have a kind of literacy."
Fleming became interested in this subject after realizing that while there is substantial research on the role of political "performances," like marches, sit-ins and other forms of activism, there is little scholarship on theatrical performances during the 1960s. Noted civil rights activist Robert "Bob" Moses pointed him toward the work of the Free Southern Theatre (FST), a group founded in 1963 at Tougaloo College in Mississippi (where Fleming was an undergraduate) and closely connected with the civil rights movement.
When Fleming examined the FST archives, he learned about a 1964 performance of Samuel Beckett's "Waiting For Godot." In the play, two characters wait for someone named Godot who never arrives. The FST set many of their productions in the cotton fields of Mississippi. Fleming says that the absurdity of the play resonated with civil rights activists and local Mississippians who felt like they were waiting for a freedom which might never arrive.
"If we pay attention to this archive of theatrical performance, we can learn more about how African Americans experienced waiting, or what I call 'black patience,' as a kind of oppression," said Fleming. "In the context of the civil rights movement, theater functioned as a key cultural and political vehicle that challenged the violent workings of 'black patience.'"
Fleming earned his Ph.D. in English at the University of Pennsylvania. His work appears in numerous journals, including "Callaloo," "The James Baldwin Review," "The Southern Quarterly," "American Literary History" and "Text and Performance Quarterly." He is an associate editor of "Callaloo" and has received fellowships from the Woodrow Wilson National Fellowship Foundation, the University of Virginia's Carter G. Woodson Institute, The Andrew W. Mellon Foundation, the Social Science Research Council and The Stuart A. Rose Manuscript, Archives and Rare Book Library at Emory University.
Fleming says these awards are an encouraging "jolt of energy." He is grateful to several ARHU faculty for their support, including Dean Bonnie Thornton Dill, Associate Dean Daryle Williams and Distinguished University Professors of English Mary Helen Washington and Robert Levine, who serve as his faculty mentors.