Theatre Professor Scot Reese Inducted to College of Fellows
May 09, 2019 School of Theatre, Dance, and Performance Studies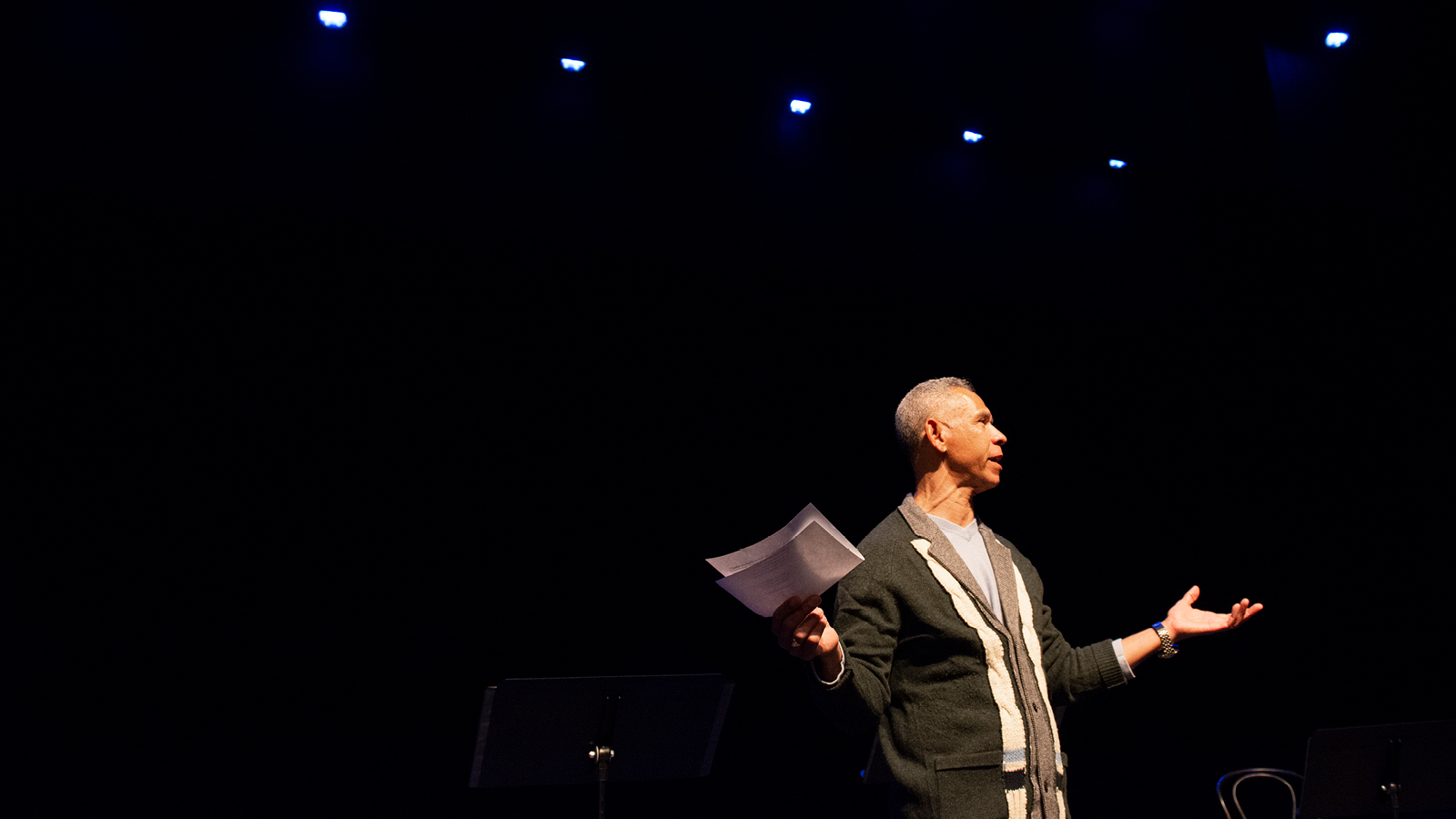 Reese is recognized for outstanding achievement, dedication and service to American theater.
By Kate Spanos '16 Ph.D. theatre and performance studies
Congratulations to Theatre Professor Scot Reese who was inducted to the College of Fellows of the American Theatre at a ceremony held at the John F. Kennedy Center on April 20th. Reese, an Emmy-award winning director, actor, singer, educator and activist, was one of only seven theater artists inducted this year. Originating in 1965, membership to the college is "one of the highest honors bestowed on educators and professionals of America's educational and theatre community."
"Empathy, humor, grace and passion" were words used by Reese's nominator Kim Peter Kovac, artistic director of the Kennedy Center's Theater for Young Audiences, to describe Reese also citing his notable dedication and exceptional service to theater education and black theater in the United States. Kovac lauded Reese for a lifetime of work advocating for and mentoring young theater artists, especially students of color.
When asked about the recognition, Reese shared that "the roster of the college includes my own mentors and those who I have looked up to for years. It's an honor to be named among them."
These names include theater history scholar Oscar Brockett, scholar and director Harry Elam and founding artistic director of Arena Stage Zelda Fichandler. Reese's colleague, Professor Franklin J. Hildy, also on the UMD School of Theatre, Dance, and Performance Studies (TDPS) faculty, was inducted into the College of Fellows in 2011.
As head of performance for the school, Reese aspires to help young artists find a career and life in the arts. He teaches students how to navigate the competitive theater industry with mantras like "If you're early, you're on time—if you're on time, you're late" and emphasizes collaborative communication skills in supporting one another in the professional world.
"It's so important to offer a liberal arts education that gives students a well-rounded foundation," he explains. "It's not just about being a good actor, director or designer—success comes from being a kind, generous person."
Mentorship extends beyond graduation for Reese who maintains close relationships with alumni, attending their performances and inviting them back to campus to speak. He strives to "create a network—a family, really—of TDPS alumni."
"His good will and continued mentorship of students over the years has invited alumni to feel that they are still part of the UMD community," says Leigh Wilson Smiley, director of TDPS.
Reese came to UMD in 1995 after serving as a CBS talk show host in Boston and working as assistant to the director at Goodman Theatre in Chicago, IL. He's directed over fifty plays and musicals, including "Blues Journey" at the Kennedy Center, "Crumbs From the Table of Joy" at Round House Theatre, "A Raisin in the Sun" at Olney Theatre Center and "Barefoot in the Park" (with Laura Linney and Eric Stoltz) at L.A. Theatre Works. He's the originator of UMD's semi-annual Black Theatre and Dance Symposium and under his leadership, theater professionals, dancers, educators and students convene at Maryland to discuss important issues, past and present, impacting diversity and inclusion in the arts and beyond. In 2016, he facilitated UMD's participation in the Kennedy Center's "New Visions/New Voices," an award-winning workshop to support the creation of new plays for young audiences. He worked with students from the school to direct, research, stage manage and act in staged readings of plays written by playwrights from South Africa, India and Korea.
Reese is currently directing the TDPS production of Wendy Wasserstein's "The Heidi Chronicles," which runs May 4-11. This summer he plans to travel to Scotland and Ireland thanks to a grant from TDPS's International Program for Creative Collaboration & Research to investigate theater festivals and opportunities for UMD students to study abroad. In the fall he'll direct Pearl Cleage's "Flyin' West" about four strong African American sisters who move West at the turn of the twentieth century.
For more information about Scot Reese and the School of Theatre, Dance, and Performance Studies at the University of Maryland, visit www.tdps.umd.edu. Tickets for school productions are available online or by calling 301.405.ARTS.
Scot Reese at the TDPS Fearless New Play Festival on March 9, 2019. (Photo by David Andrews).