October 24, 2019 The Clarice Smith Performing Arts Center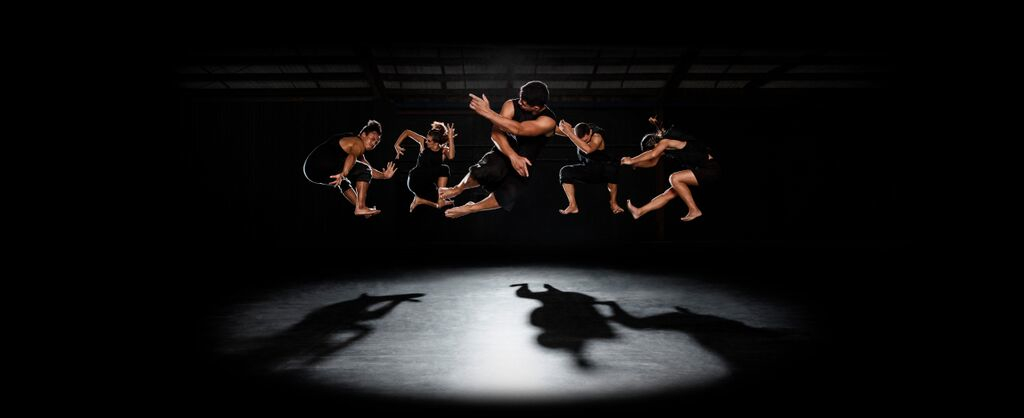 The New Zealand dance company Black Grace is starting conversations about cultural taboos.
By Jessica Weiss '05 
Neil Ieremia never learned how to cry.
In Wellington, New Zealand, where he grew up in the '70s and '80s, rugby was the activity of choice. Boys didn't share their feelings or show their emotions, let alone express themselves creatively—especially in his traditional Samoan community, which revered a "warrior figure." 
So when Ieremia quit his job at a bank, left home and enrolled in a dance program full-time when he was 19, his family was heartbroken. 
"No one really danced except for traditional dance," said Ieremia, who now choreographs and directs his own company. "It wasn't cool. And there was no contemporary, modern dance."  
As the artistic director of Black Grace, an esteemed modern dance company in New Zealand that he founded in 1995, Ieremia is exploring some of the themes that shaped his youth—like identity, modernity and toxic masculinity. 
His piece "Crying Men," presented by the Visiting Artist Series at The Clarice tonight, delves into "masculinity from a Pacific perspective." 
"Growing up, the examples of masculinity in my life were all sort of muddled," he said at a talk Monday at The Clarice. They were "taken from a traditional Pacific Island culture, which was a matriarchal culture before it became a patriarchal culture with the introduction of missionaries around 1830. So I had all these things going through my head." 
"Crying Men" traces the journey of three generations of Pacific men who are dealing with the loss of a matriarch who brought balance to the traditional expectations of masculinity. 
To create the piece, Ieremia recruited popular Pacific playwright Victor Rodger, who wrote an accompanying narrative to underpin the choreography.  
The show features both traditional and contemporary elements, like Pacific storytelling alongside hip-hop. Ieremia says that dichotomy reflects his own multi-cultural experience. 
Throughout his life, he has struggled to bridge the seemingly disparate worlds of his Samoan Pacific Islander roots and the white, mainland New Zealand culture where he lives.
"We don't quite fit in anywhere," he said. "When we're in New Zealand, we're too brown to be white, and when we're [on the islands] we're too white to be brown. It doesn't work."  
He says the piece does something else that's largely unheard of in New Zealand: begins a public conversation about masculinity. 
"That is not something we really do in our culture, we don't talk about our dirty laundry in public," he said. "But I think it's important to put things out for discussion." 
The creation of "Crying Men" was deeply personal for Ieremia, who said it forced him to challenge his own internalized ideas about masculinity. The company worked together for eight months to get the subject matter right. 
Now, he said, he is working to build new definitions of masculinity. And that includes with his 14-year-old son Isaac. 
"I tell him, 'It's alright to cry,'" Ieremia said.
Black Grace performs "Crying Men" at The Clarice October 24 at 8:00 p.m. Tickets are available here. The program also includes a selection of additional works from the company's 24-year history. 
Photo by Duncan Cole.