Reimagining Dance for All Bodies
May 28, 2019 School of Theatre, Dance, and Performance Studies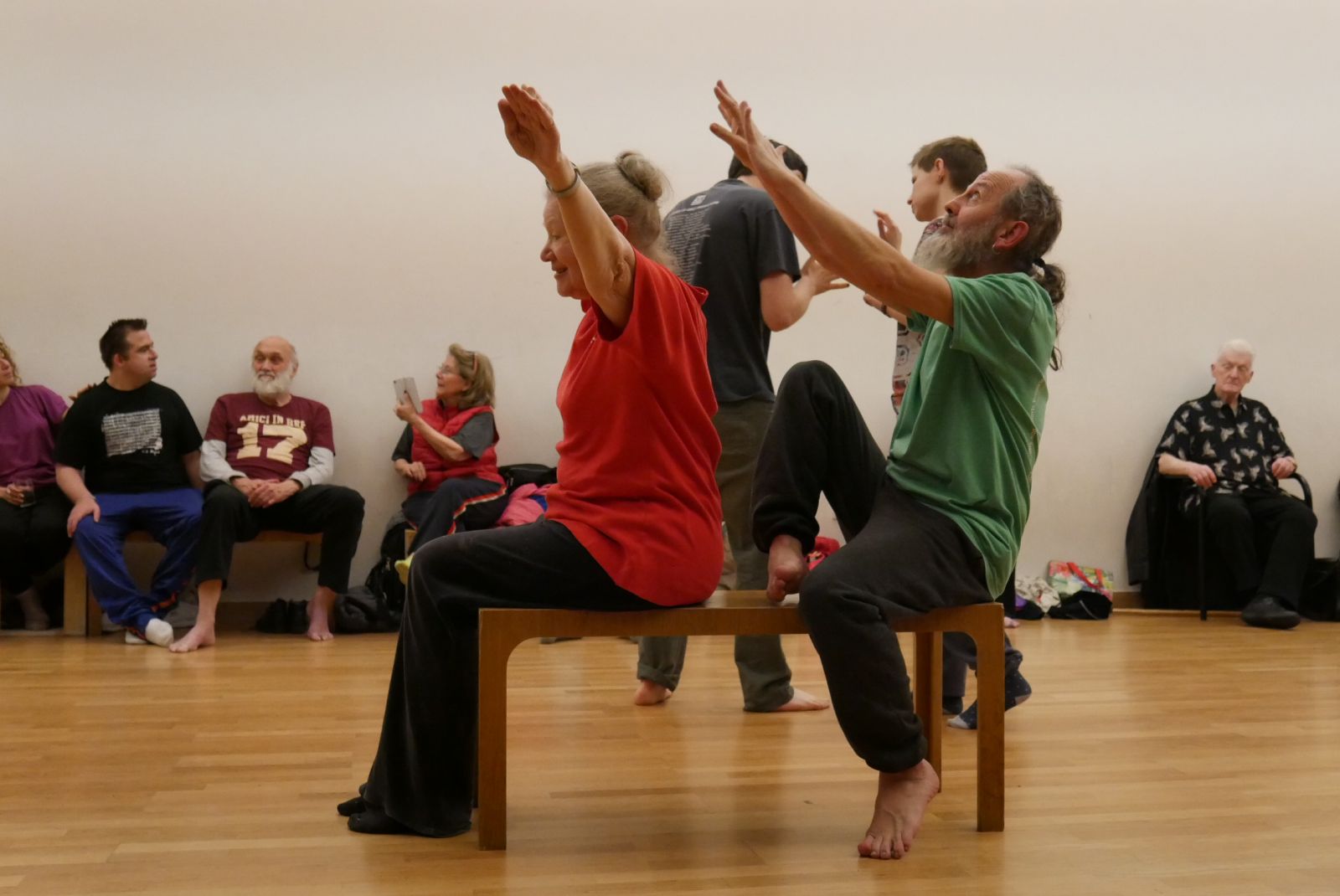 M.F.A. Dance candidate Christine Hands '19 wants to improve access to dance for people of all abilities.
By Kate Spanos '16 Ph.D. theatre and performance studies
On screen two sisters dance in a park, mirroring and responding to each other's movements. One spins and winds in a wheelchair, waving her arm as she rotates, while the other runs, leaps and falls to the ground, then pulls herself back up again. They take turns directing the movement—the sister in the wheelchair is as active and in control as her non-disabled sister.
M.F.A. dance candidate Christine Hands '19 is the sister running and leaping in the video, and she wants to reimagine dance to include bodies of all abilities. Hands has personal experience with the challenges disabled people face. Her mother had muscular dystrophy, which impacted her physically. Her sister Melissa has the same condition, which affects her cognitive and physical abilities and requires her to use a wheelchair.
In the first year of Hands' graduate work at the University of Maryland School of Theatre, Dance, and Performance Studies, she filmed Melissa dancing in her room and, inspired by that footage, they created the duet in the park. This project was a watershed moment. Hands, who grew up with classical dance training, began to focus on making both dance classrooms and performances welcoming to and representative of people of all abilities.
"Inclusive dance isn't just fitting new kinds of bodies into the old, virtuosic model of dance," she explains, "but really blowing open the potential of what that model can be."
Hands' research focuses on dance companies that are doing this innovative work. In summer 2017, she participated in Axis Dance Company's Physically Integrated Dance Intensive and Teacher Training in Oakland, California, and she recently returned from a research trip to Scotland and England, where she visited companies such as Glasgow's Indepen-Dance and London's Amici Dance Theatre Company that integrate artists with and without disabilities. These companies share similar goals of empowering and valuing all movers.
"I was moved to see how dancers helped each other out in class," notes Hands. "They really create a fluid exchange of caring."
For her thesis concert, Hands created an immersive, multisensory and accessible reimagining of Shakespeare's "Hamlet" at The Clarice. The venue was wheelchair accessible, and the dance performance included American Sign Language interpretation for the deaf community, audio description and a pre-show touch tour with costume pieces and props for those with blindness and low vision.
"The idea was to create alternative entry points for the audience through touch, sound and sight," she said.
Even though many of the audiences members did not require these resources, Hands hopes that making them a central part of the production increased awareness of how people with disabilities experience the world.
"Accessibility not only benefits people who need the services," she said, "but it actually enhances the experience for everyone."
This fall, Hands will bring her focus on accessibility and inclusion into the classroom by teaching dance to middle school children at Success Academy Charter Schools in Brooklyn, New York. To include children who have a variety of needs and learning styles, she is developing a curriculum that offers modifications and alternatives for approaching movement.
"To create a more inclusive community, we must reimagine the world we live in," Hands said. "As a teacher, dancer and choreographer, I want to enact this change through dance."