February 24, 2020 College of Arts and Humanities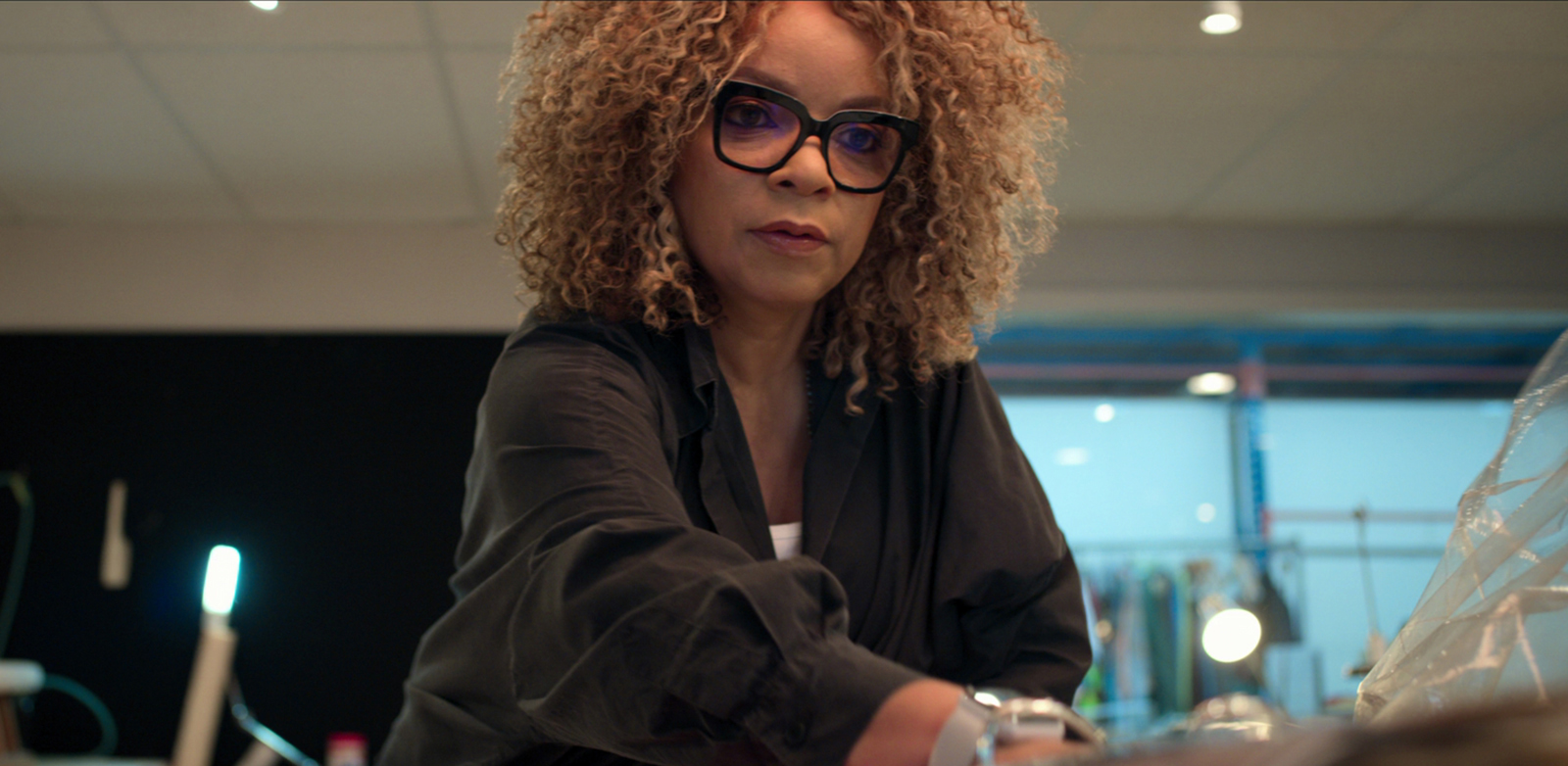 Ruth E. Carter, Academy Award-winning costume designer of "Black Panther," to visit campus.
By Jessica Weiss '05
For a costume designer who's spent her career reflecting the African American experience in film and television, it was an intriguing prospect: envision the look of a futuristic African kingdom that's rich in vibranium, not to mention helmed by a superhero.
The charge to help give the fictional Wakanda a ring of authenticity and make it reflect the depth of African tribal customs and cultures sent Ruth E. Carter on a research odyssey that took her from Los Angeles to Atlanta to the Lesotho nation, working with a team of shoppers, designers, mold and jewelry makers and more.
For her work designing the 700-plus costumes featured in "Black Panther," Carter won the 2018 Oscar for costume design — becoming the first African American ever to do so. It was an honor she's long been working toward; since the late '80s, Carter's creations have appeared in some 65 film and television productions.
Carter's first plan was acting, but after losing out on a role in a play during her sophomore year at Hampton University, a professor asked her to try her hand behind the scenes instead, dressing the characters. It turned out she loved it, and after college and an internship at the Santa Fe Opera, she drove to L.A. and started as a backstage dresser for the Los Angeles Theatre Center. That's where she met indie filmmaker Spike Lee, who invited her to work with him on "School Daze," his second film. She has since worked with Lee on 10 films, including 1992's "Malcolm X," which netted her first Oscar nomination. Steven Spielberg's 1997 "Amistad" brought a second.
She's also branching out to new areas of design. This month Carter launched her first fashion line, "Ruthless," in collaboration with H&M. Inspired by hip-hop fashions of the '80s and '90s — a look she helped create with her work on Lee's "Do the Right Thing — the 11-piece line features the red, black and green of the black liberation flag. Up next, her costumes will appear in December in "Coming 2 America," the sequel to the 1988 Eddie Murphy classic.
Carter is speaking tomorrow at The Clarice Smith Performing Arts Center as part of the 2019-20 Arts and Humanities Dean's Lecture Series. But before that, she talked to us about her love of storytelling, the power of history and the artistry behind "Black Panther."
When did you first realize your passion for stories?
My brother and I loved to create characters when we were growing up. We would draw them and build a story around them. We had one that was a mouse, and he was kind of a revolutionary. We drew a turtleneck on him, he wore a tam and he usually had a big Black Power kind of fist in the air. We put him in our books and notebooks. He was really like a part of our family. I think being imaginative around these characters was one of the beginnings of me understanding this passion in myself.
There was no costume design concentration at Hampton, your university. So how did you hone your skills?
I had taught myself how to sew and I had a machine in my bedroom, but I didn't have any idea what I was doing. I went through the work of breaking down the script and figuring out how many costume changes there would be; I went to the local fabric store; I went to the library and got books on costume design and learned I had to do sketches. The university's costume shop was vacant, so I made that whole shop my playhouse, my workroom, and I soon found out that I could be there for hours and not feel isolated or alone. It was a place where I could actually be creative. So, sophomore year I switched my major to theater arts from special education. I took a couple of fashion courses. By the time I was a senior, everything I was doing centered around being a costume designer. I was doing the costumes for the frats if they had a step show, I was doing plays, I was the president of the drama club. Finally, my last semester of senior year the university offered a class in costume history. But I didn't get a good grade in it because I was never there.
From "Amistad" to "Malcolm X" to "Selma," you have worked on costumes from many different historical eras. How do you recreate a period of time through costume?
It's an in-depth research process. During college I spent summers at Colonial Williamsburg where I was a part of their Living History program. I played a woman named Betty, a seamstress who made dresses for Thomas Jefferson's wife. She freed herself and was buying her husband's freedom too. So, I would walk the streets barefoot with a rag on my head and a big basket with a dress in it. I also played Jennie who was a tavern maid, a slave. She had a garden so I would pick beans. The research I had to do on those two people was incredible. I was assigned a historian and he would guide me through a research process and I would write the monologue that I would give to visitors. Back at school, a lot of the plays we did were period pieces, from the '40s, '50s, the turn of the century, and I knew how to get into each character and the research of the items based on my experience at Colonial Williamsburg. And that same process serves me now.
But it was your imaginative futuristic designs in "Black Panther" that ended up nabbing you an Oscar.
There are actually a lot of similarities. The film is based in a culture that is so rich. All the costumes in "Black Panther" — the textiles, the elements, the fabrics — had to have a history and an origin. Take African beadwork, for instance. Some beads are made of glass, some of bone, some of paper, some of clay. That lack of uniformity actually tells a story. So, you still have to do your research and get to know what these elements are and how they were made. When you can infuse that into a futuristic model of something, it adds so much depth to the story; it moves it forward as well as keeps it rooted in culture. I think that was the success of "Black Panther." It opened up the door to the wealth of knowledge that Africa has as far as crafts and arts.
You've just launched the "Ruthless" fashion line. What does the collection represent about you?
This collection is my invitation to connect to anyone who feels that they have a unique voice. It's for anyone who wants to be a part of a community of people who are like-minded and that wants to share their creative self.
The Arts and Humanities Dean's Lecture Series featuring Ruth E. Carter will be held at 5:00 p.m. tomorrow in The Clarice's Gildenhorn Recital Hall. Tickets are sold out, but more info about the standby line is here. Image courtesy of Netflix.