Puppet theater company Alex & Olmsted present "The Cough Next Door" for the Henson Awards Showcase
May 05, 2020 School of Theatre, Dance, and Performance Studies | College of Arts and Humanities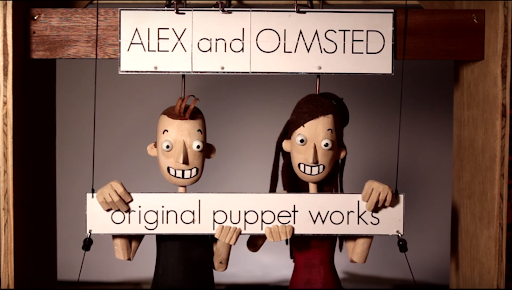 Alex & Olmsted distill the emotions and anxieties of our global pandemic into a seven-minute puppet film.
Each year, the School of Theatre, Dance, and Performance Studies hosts an annual Henson Awards Showcase, featuring the original puppetry work of award recipients. This year's showcase was canceled due to the COVID-19 lockdown, but that hasn't stopped our student and visiting artists from creating and showing their work from home.
One of these artists is Alex Vernon, who is TDPS' artist-in-residence in puppetry this semester. For spring 2020, he has been in residency at TDPS to create new puppetry work and also teach our puppet design and performance class (TDPS458T).
Alex and his wife, Sarah Olmsted Thomas, are Alex & Olmsted, an internationally acclaimed puppet theater company based in Maryland. For the Henson Awards Showcase this year, they created "A Cough Next Door," a short puppet film that distills the emotions and anxieties of our current health crisis into a seven-minute character exploration.
Alex & Olmsted have also created tutorial videos for "How to Write a Short Puppet Show" and "How to Make a Puppet Film." Try it out, and see how you can keep creating during this time!
---
About the Henson Awards for Puppetry: The School of Theatre, Dance and Performance Studies hosts an annual competition and recipients are awarded funds to create a puppet project or performance. The Jim Henson Fund for Puppetry was established by Jane Henson '55 to honor the memory of Jim Henson '60, creator of the world famous Muppets.