"The Poet X" Marks the Spot
December 03, 2018 English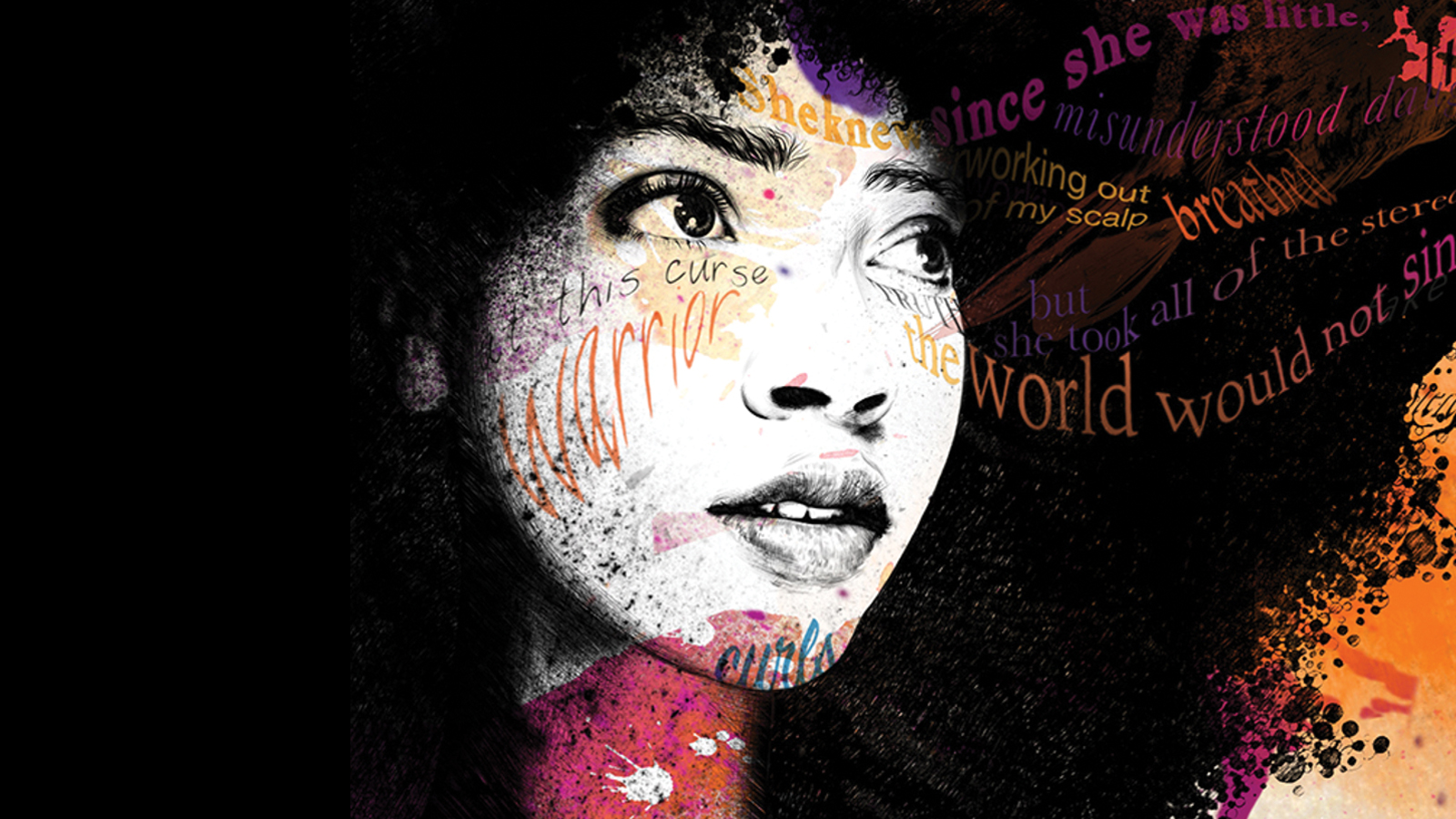 Alum wins National Book Award for Young People's Literature.
By K. Lorraine Graham
Elizabeth Acevedo MFA '15 won the National Book Award for Young People's Literature last month for "The Poet X," her debut novel in poems. It powerfully tells the story of 15-year-old Xiomara Batista, a New York City native who's the daughter of Dominican immigrants—biographical details she shares with Acevedo.
In an interview with the College of Arts and Humanities, Acevedo candidly talks about writing, how her culture and experiences influence her work, and the similarities and differences between herself and her protagonist.
How did you become a writer, and what motivated you to write for a younger audience?
I was interested in language, the stories of my community and my youthful concerns, so I wrote them down. I come from hip-hop, music and storytellers, so that's where I turned when I felt overwhelmed in my body and experiences and needed to put my thoughts somewhere safe. I write for young people, in addition to the work I produce for adults, because I know what it is like to search for yourself in literature and not see images that reflect your experiences.
Like Xiomara, you are a first-generation American. And as a national poetry slam champion, you know what it's like to perform. To what extent does your personal experience inform Xiomara's character and story?
This story isn't autobiographical, but it is loosely based on experiences I've had: Being catcalled growing up, coming from a strict household, undergoing the sacrament of confirmation, etc. I draw on what I remember feeling at that age and the concerns I wish I'd had language for. But this story is definitely fiction—I was never as brave as Xiomara, and my household wasn't oppressive.
Many of the themes that emerge in "The Poet X," especially Latinx culture and growing up as a first-generation American, intersect with contentious social issues in the U.S., particularly immigration. What role does literature have in public conversations about current events?
My first inclination is to push back against the notion that my culture is a theme or that for bodies of color, women of color and immigrant/first-generation folk, merely existing is inherently contentious. However, I recognize that in this country it does often seem that for certain bodies, merely breathing causes tension. But that's not what I try to highlight in my work.
That said, I think literature is a site to practice empathy, and so much of the public discourse about current events lacks any sense of the fact that we're talking about human beings who deserve basic human rights. Literature hopefully reinforces that idea time and again. Even in tense political moments, there is romance, lightheartedness and nostalgia. A complete literature needs to encompass all those experiences, especially when it comes to marginalized voices. We are more than the politics we present for people and more than the narrow headlines we get pushed into—even as it's important to continue pushing for social justice.
Looking back on your time in the M.F.A. program at UMD, were there particular seminars, workshops, mentors or peers who helped you develop your voice?
I will forever be grateful to Joshua Weiner and Professor Michael Collier. They both helped me feel seen and valued in the M.F.A. program. They believed in my voice and project and were committed to challenging me while also understanding what the project of my writing was. Lindsay Bernal who coordinates the M.F.A. program is a complete dream—She was so helpful in helping me navigate teaching and learning at UMD, and she also let me sit in her office when I needed to take a deep breath. Within my cohort I am lucky to have had generous and smart readers and friends in Mason Henderson, Emily Banks and M.K. Foster.
Image Credit: Photo illustration courtesy of HarperCollins Publishers.