A Musical 'Cradle' for Those on the Margins
December 09, 2022 College of Arts and Humanities | The Clarice Smith Performing Arts Center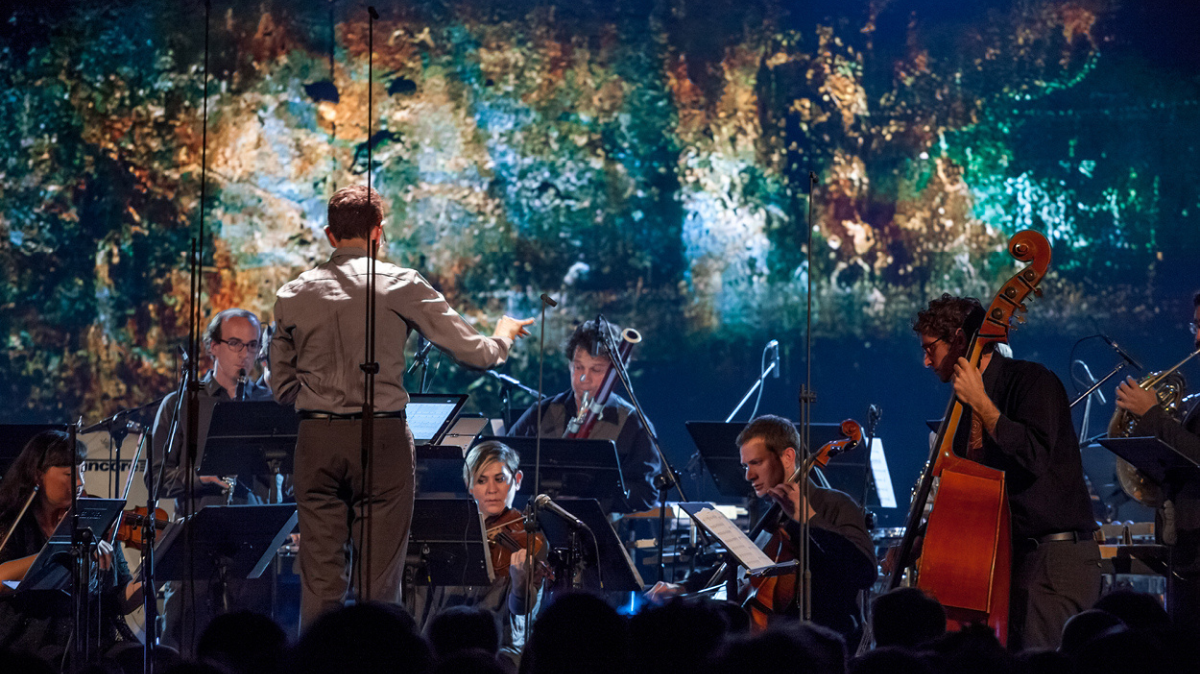 Sunday performance features experimental classical music and visiting artist ensemble.
By Sala Levin '10 | Maryland Today
Growing up queer in conservative Utah and navigating the sometimes-grim realities of American life as a young Black person might have little in common on the surface, but they share certain elements: feeling isolated, building an identity, finding one's own community.
On Sunday, these life experiences will share a stage at The Clarice Smith Performing Arts Center as visiting artist Alarm Will Sound, a 16-piece contemporary classical music ensemble, presents two musical pieces: "Cradle," by folk violinist and vocalist Alyssa Pyper, probes her young life in Utah, while "Love Always," written by flutist/composer Allison Loggins-Hull and musician Toshi Reagon, offers a musical—and literal—love letter to Black children and teens. (Reagon and Pyper will join Alarm Will Sound onstage to perform their works.)
The development of the two pieces was supported by Alarm Will Sound's Matt Marks Impact Fund, which offers funding for ambitious projects that have the potential to make significant cultural and social impact. "Love Always" was co-commissioned by The Clarice, and will make its world premiere there on Sunday.
"I was really interested in what I call a creative collision, bringing together a folk rock artist, a classically trained flutist and one of the best contemporary music ensembles in the country," said Richard Scerbo, artistic planning program director at The Clarice.
As she struggled to find a safe community among her fellow Mormons, Pyper felt separate from and rejected by the world around her. Using just her violin, her voice and a loop pedal (a device that creates instant recordings and plays them back in real time), Pyper wrote "Cradle," an experimental piece symbolizing her journey. It features "moments of stillness and moments of fracture and chaos," Pyper said. "It's pretty melodically driven, and ensemble members will often take a little portion of my violin or vocal melody and repeat it in a sort of fractured way."
"Love Always," meanwhile, was inspired by writer Ta-Nehisi Coates' 2015 bestselling book, "Between the World and Me," written as a letter to his adolescent son. "It really resonated with me," said Loggins-Hull, whose own son was 8 at the time and just beginning to ask difficult questions about the world around him.
"It's very challenging to try to figure out how to talk to a child about such loaded realities," she said. "I saw this as an opportunity to approach the subject musically, this idea of communicating in storytelling and letters through song."
Together, Loggins-Hull and Reagon wrote the three songs that compose "Love Always." Loggins-Hull's contribution is a song called "Special Boy," dedicated to her son. "He beats to his own drum. He's not someone who conforms," she said. "My big concern was that the things that make him different and special would be misinterpreted or seen as a threat." In the song, she encourages her son to "live how he would like to live and not have to compromise himself to meet other people's expectations."
Alan Pierson, Alarm Will Sound's artistic director and conductor, said the group was drawn to the two pieces for the feelings they conveyed. "They're both very emotional, very personal projects, and in both cases the music samples they shared were so beautiful and compelling … that we really felt we needed to do them," he said.
Though Pyper has performed "Cradle" solo a number of times, "it feels a lot better performing it with an ensemble," she said. "It kind of feels like a nice metaphor for sharing your story with others and letting others hold you and participate in your healing with you."
Photo by Wojciech Wandzel