'Learning it by doing it': Marisa Fried '20 Finds Her Calling in Linguistics Research
December 18, 2020 Linguistics | School of Languages, Literatures, and Cultures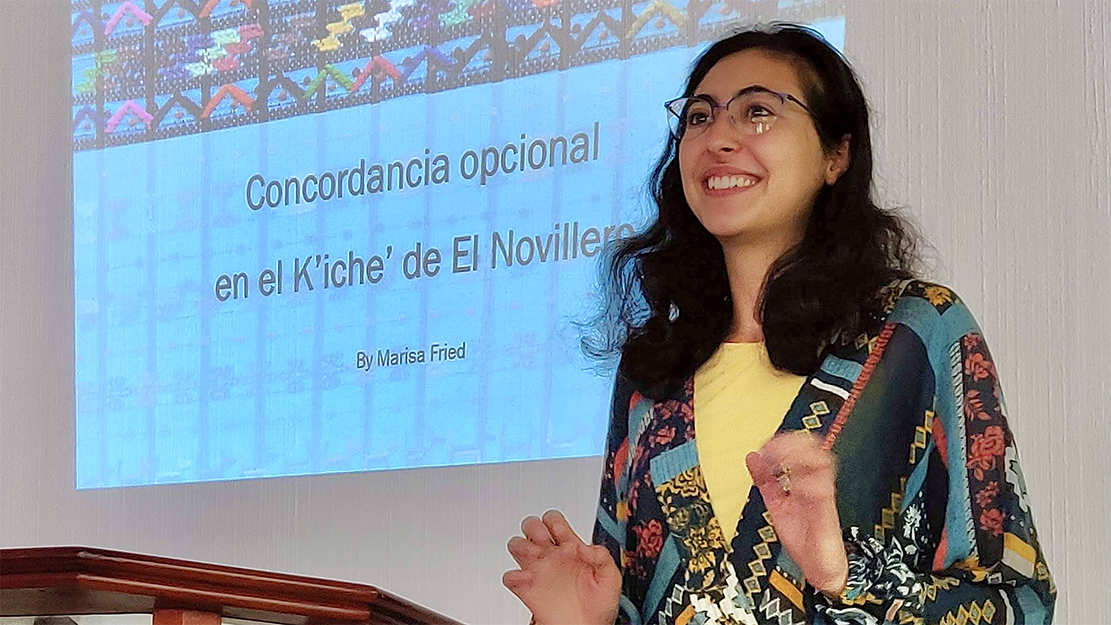 Fried graduates with a double major, a minor, a certificate—and a bedrock of research and cultural experiences.
By Kimberly Marselas '00
By the time Marisa Fried '20 landed at the University of Maryland at age 22, she had finally given herself permission to follow her own curiosity.
While working on her associate's degree at Montgomery College, Fried sat in on two linguistics classes offered by College of Arts and Humanities faculty members Tonia Bleam and Peggy Antonisse, in the Department of Linguistics.
A field that so deftly blends theory with scientific research felt like a natural fit to Fried, who found herself reflecting on an earlier fascination with the structure of language.
Fast forward to this weekend, and Fried is picking up a bachelor's degree in linguistics and Spanish, with a minor in U.S.-Latino studies, and a certificate in language science from PULSAR, the undergraduate research seminar run by the Maryland Language Science Center, plus the Dean's Senior Scholar Award from the College of Arts and Humanities in hand.
More importantly, she is taking with her deep appreciation for both the brain's ability to process language, and language's role as a great equalizer.
"Language is a natural, cognitive phenomenon—not something we constructed," Fried says. "Understanding linguistics takes away the idea that there's one correct way to speak. No one group of people owns language. We can't control it."
Over two and a half years at the university, Fried has taken advantage of multiple avenues for exploring language structure and history.
In her first semester she resurrected the Linguistics Club, which offers undergraduates the chance to present their research and build relationships with students from other majors with complementary interests. Last year, she moved into the Spanish Cluster of the Language House, a living-learning program providing daily opportunities for language and cultural immersion. 
And at every chance, Fried has established herself as a young researcher who is ready—and definitely willing—to travel for her work.
Bleam, director of undergraduate studies for the linguistics department and Fried's advisor, first told her about a position assisting graduate students with their research.
Fried was soon helping to code fieldwork data from speakers of Tz'utujil, a Mayan language. The position was a good fit, as another recent class had prompted her to study the history of Guatemala, where 22 Mayan languages are spoken.
During Fried's first winter break after starting on the research team, she was able to travel to Guatemala for a two-week intensive class in Kaqchikel, a related language. She would return again the following summer to participate in fieldwork with the Maryland Language Science Center. Fried's investigation of optional agreement patterns, completed with her graduate student mentors, Rodrigo Ranero and Paulina Lyskawa, with support from an NSF Grant (#BCS-1563129) to Linguistics Professor Maria Polinsky, was later selected for presentation at the 44th Penn Linguistics Colloquium.
"Research is not something you really learn in the classroom," Fried says. "You learn it by doing it. These were really important experiences for me."
When Fried was honored as a Philip Merrill Presidential Scholar last month, she shared the award with her mentor Bleam. Being part of a welcoming department—one that sparks connections for its students—has been a hallmark of Fried's time on campus.
But she also appreciates time to get away. Fried studied abroad in Salamanca, Spain, and is an outdoor enthusiast. During the pandemic, she biked solo from the Washington, D.C., suburbs to Old Rag Mountain in Shenandoah National Park, loading her one-person tent onto her dad's 1990s bike.
After she completes an internship with Therapists Beyond Borders this spring, Fried will spend six months doing trail work with the Montana Conservation Corps.
Then, it's on to graduate school, where she expects to either study speech language pathology or work toward a Ph.D. in linguistics and continue satisfying her curiosity.
Top image: Marisa Fried '20 gives a talk on optional agreement in the Mayan language K'iche at Universidad Mariano Gálvez in Guatemala after fieldwork conducted through the Language Science Center in 2019. Second image: Marisa Fried '20 poses while hiking in Spain's Arribes del Duero Natural Park during a summer study abroad program.