Inspiration in everyday objects
May 08, 2019 School of Theatre, Dance, and Performance Studies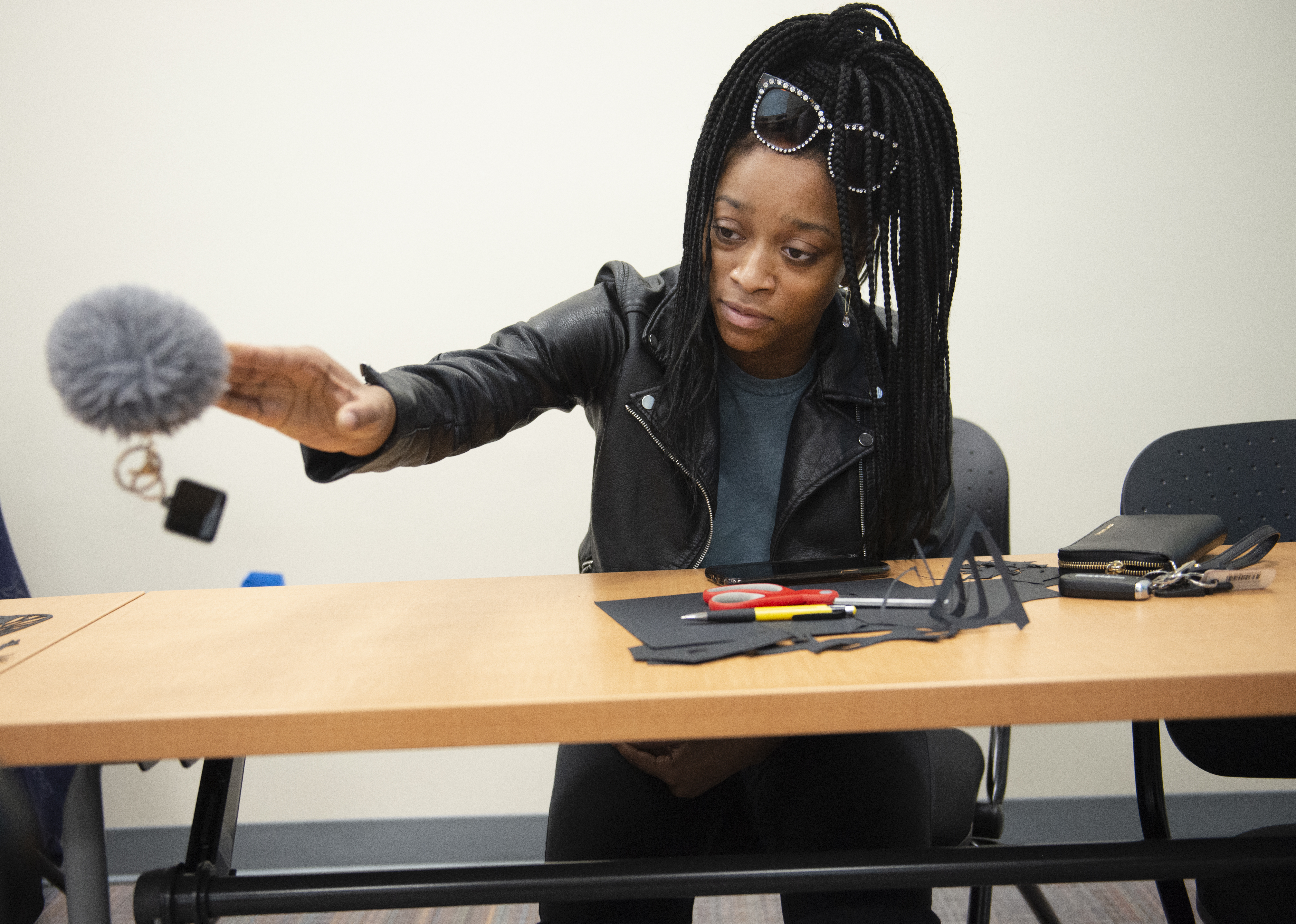 Samara Brown '19 looks to puppetry to tell stories both silly and inspiring.
By Kate Spanos '16 Ph.D. theatre and performance studies | Photos and video by David Andrews
Look at the closest pen you can find. What do you see? You might just see an everyday writing instrument, but Samara Brown '19 sees a face, a nose, a mouth and an opportunity to create a character. With some imagination and puppetry skills, Brown brings inanimate objects to life.
In her final semester, Brown is taking a course in puppetry, co-taught by guest lecturers Zvi Sahar and Leslie Strongwater of the Israeli company Puppet Cinema known for its innovative storytelling.
The class is held in one of TDPS' new high-tech World Outreach Classrooms, which are funded by the International Program for Creative Collaboration and Research and allow Sahar to join virtually from Tel Aviv while Strongwater administers the class here in Maryland.
"What we love most about the class is that we're dealing with an ancient art form," says Strongwater. "We are looking at puppets as storytelling tools across a spectrum of performing possibilities."
The course focuses on storytelling through cinematography and puppetry. Brown is especially interested in object theater, a dynamic form of puppetry which uses everyday objects to create characters. Through movement and strategic camera angles, a puppeteer can create a complex, emotional story.
For one assignment, students used ordinary objects found in their dorm rooms to create a puppet circus inspired by the sculptor Alexander Calder's miniature toy theatre piece.
"I found some raw carrot chips in my fridge," Brown said. "I mounted them on an elephant piggy bank and gave them dental floss 'whips' to simulate circus animal tamers."
To personalize the characters, Brown gave them voices like Minions, the little yellow characters in the animated film "Despicable Me," and used pitch and varying intonations in her voice to make sense out of nonsense words. With video editing, she manipulated size and perspective to make the puppets look larger-than-life.
"Everything relates to storytelling," explains Strongwater. "Nonsensical sounds are meant to cut through to the meat of the emotional tone of the piece."
Brown is an actor and singer who has used her powerhouse voice in many TDPS productions, including "Clove" and "Little Shop of Horrors." The puppet cinema course has helped her discover new ways of using her vocal skills, and she has become interested in voice acting. In May, Brown plans to move to Atlanta to pursue a career in film and television, and she is considering launching a YouTube channel dedicated to object puppetry. This would not be her first channel.
"In high school, I had a YouTube channel about makeup artistry," she recalls, "and I've become inspired by the many puppetry stars out there on YouTube."
Brown enjoys making people laugh with her voice imitations and silly storylines, but the same voice and puppetry techniques can be used to reflect on serious topics. In one of her pieces, an old beat-up hair dryer cries in front of a mirror about how ugly and useless it has become. The hair dryer gets a "hot pink and turbo-charged" makeover to show how, when we are feeling worn down and hopeless, we can turn things around by changing our perspective. Strongwater says this is one way puppetry allows for the processing of content that may otherwise be difficult to articulate.
"Now I look around me and I am inspired by so many everyday things," Brown reflects. "I see the world in a different way."
Photo: Samara Brown '19 shows her keychain puff puppet in action (David Andrews).