Graduating Art Major Will Work as Graphic Designer at Urban Outfitters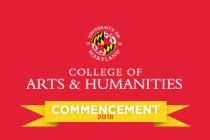 Elise Nichols '18 majored in studio art with a graphic design concentration.
Elise Nichols '18 studio art (graphic design concentration)
What are you doing after graduation?
After graduation, I am moving to Philadelphia to begin working as a junior graphic designer at Urban Outfitters.
How did your time in the College of Arts and Humanities (ARHU), both in the classroom and outside of it, help you with your post-graduation plans?
My time in ARHU exposed me to some amazing professors and other really talented supervisors.
What is one of the most memorable experiences you had in ARHU?
I loved this steel class I took because although I was one of the worst, we got to torch metal and wear fire protective/UV masks as sparks as hot metal flew everywhere.
What is one of the best classes you took?
One of the best classes I took was my first graphic design class with Audra Buck-Coleman. I had waited 2 years to get into the design program, so that first class was so fulfilling because I was finally able to take the graphic design class I had been thinking about since freshman year.
What is the one thing you think everyone should know about studying in ARHU?
Nothing about getting a cool or fun job is easy. It's a continuous effort and I don't think it will ever stop.
Want to share your plans? Email Kate Juhl at kjuhl@umd.edu with your information (photo is optional). Please be sure to fill out the ARHU Grad Survey when you know your plans at gradsurvey.umd.edu. The survey is open for 6 months after you graduate.