April 02, 2021 Philosophy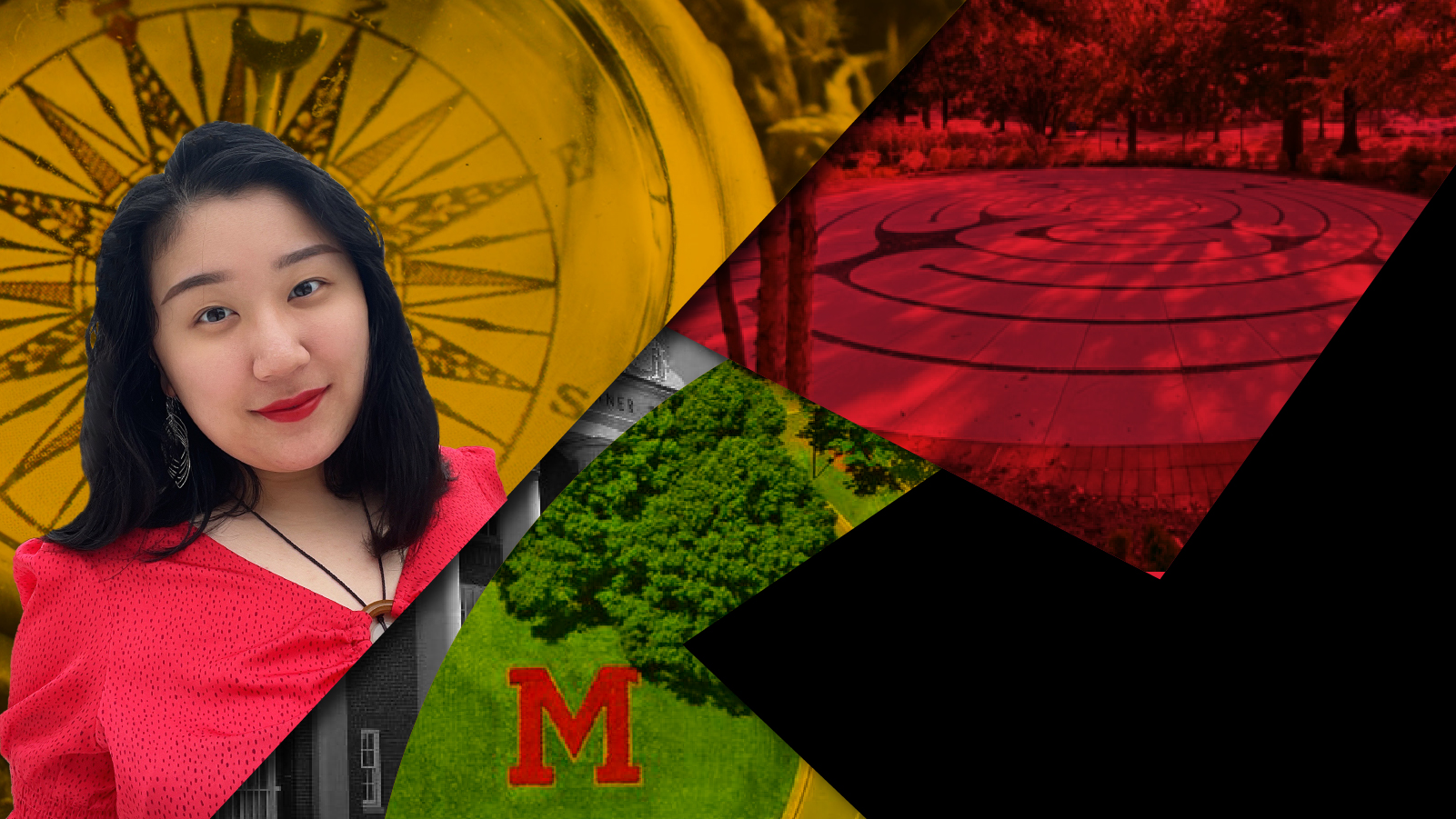 Senior Flo Ning '21, captain of UMD Ethics Bowl, touts her studies in philosophy with helping her develop logical reasoning and writing skills and the ability to stay open.
By Jessica Weiss '05
After the nation erupted in protests last year following the death of George Floyd, senior philosophy and government & politics double major Flo Ning '21 spent hours thinking through a controversial topic: Is violence during protests ever morally permissible?
The question, and ensuing discussion and analysis, was part of Ethics Bowl, a competition that invites teams of undergraduate students from across the nation to explore and analyze a range of contemporary moral questions—from free speech to affirmative action. Ning, the captain of UMD's Ethics Bowl team, led her teammates as they explored a number of issues related to the dual pandemics of COVID-19 and systemic racism.
Ning said the question of violence during protests in particular spurred a "fascinating discussion" that challenged her thinking in ways she hadn't anticipated.
"You have to think about the role of civil disobedience, the feelings of protestors, small business owners and how we reconcile emotions," she said. "You have to try to understand all sides for an argument in favor of justice."
Ning, who credits Barack Obama's 2016 "Don't Boo. Vote." directive with her decision to major in government & politics, says studying philosophy at UMD has not only given her countless skills—including logical reasoning, strong writing skills and the ability to keep an open mind and argue respectfully and thoughtfully—but it has also made her an informed and well-rounded person.
"I'm always thinking about the world, about how we see each other, the underlying structures of our society, our thinking and interactions," she said. "I truly value opinions that are different from mine."
Ning, who grew up in Clarksburg, Maryland, entered UMD as part of the Design, Cultures & Creativity (DCC) Program in the Honors College, an interdisciplinary living-learning program that encourages students to study the impact of technology on society and to understand how design can make the world a better place. Her DCC capstone project, which she completed her sophomore year, was a podcast about the philosophy of happiness and its application in the real world. The project also explored her Asian American identity.
That same year, she decided to try out for the UMD Ethics Bowl club. The team meets bi-weekly under the supervision of Brian Kogelmann, assistant professor of philosophy and director of UMD's philosophy, politics, and economics major.
Even though she was younger than many of the team members, Ning earned a spot on the traveling competitive team, arguing alongside and against mostly seniors who already had several years of experience with Ethics Bowl.
After the team graduated four of its five competing members in Spring 2019, Ning was the only competing member left. So, she took up the role as captain, fielded a new team and led them in their regional competition at Salisbury University.
"The team performed better in Fall 2019 under Flo's leadership than it did the previous year, and I think much of this is because of Flo," Kogelmann said. "She not only displayed excellent leadership, but also leadership in very difficult situations. It has been a privilege to watch her blossom as a leader and debater."
Ning said she loves the opportunity to apply her studies in philosophy to thinking about real-world issues, such as student debt, discrimination and climate change.
"I think a lot of people have stereotypes about philosophy that it's abstract, but the entire field is built on logic," she said. "You can't make an argument that doesn't make sense."
She is currently writing an honors thesis on the philosophy of blame. After graduating this spring, Ning will teach high school math in Charlotte, North Carolina, through Teach for America. She knows that the skills gained from philosophy will allow her to teach with "clear, step-by-step instruction."
"No matter the subject, I am excited to help my students learn life skills, to act as a positive role model and to work against systemic educational inequities," she said.
Ning adds that she is open to exploring multiple career paths in the future. As her undergraduate experience comes to a close, she feels well prepared.
"I think one thing philosophy has taught me is not to be locked down in one path or argument; maybe I could be a policy professional, or go into nonprofits," she said. "It's important to be flexible and keep an open mind. There are a lot of opportunities out there and so many possibilities. I'm going to keep my eyes open."