December 04, 2019 School of Theatre, Dance, and Performance Studies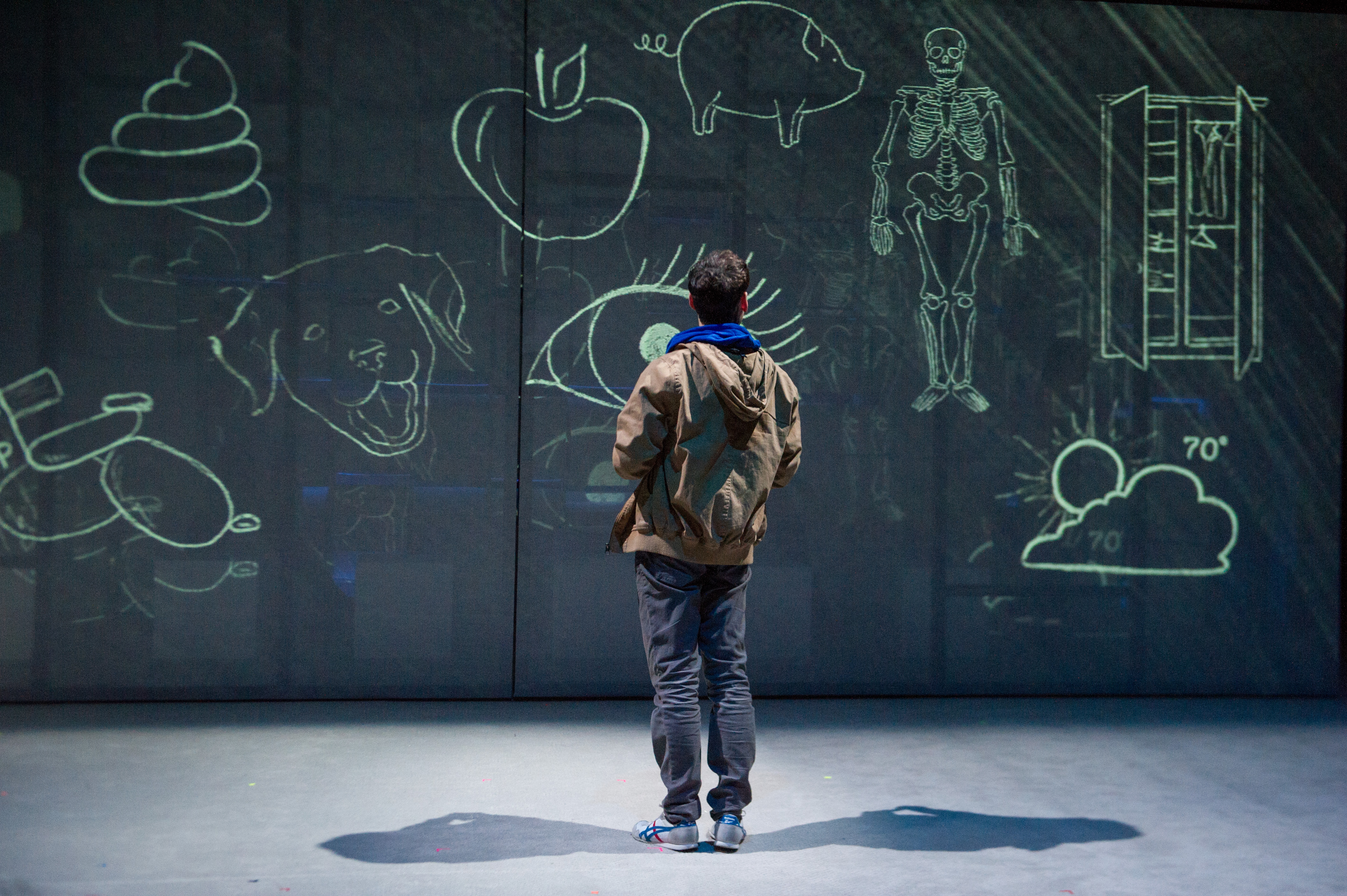 UMD professor Jared Mezzocchi co-directs "The Curious Incident of the Dog in the Night-Time" at Round House Theatre.
By Jessica Weiss '05
Fifteen-year-old Christopher Boone has just one mission: to figure out who killed his neighbor's dog Wellington. 
In "The Curious Incident of the Dog in the Night-Time," a play based on Mark Haddon's bestselling 2003 novel, the discovery of Wellington's body with a pitchfork in his side sets Christopher on a hunt for clues. And that leads him on a thrilling journey that changes his life. 
It's a story of adolescence and adventure, as well as a confrontation with serious themes — like family issues and abandonment — that illustrate the unique ways that Christopher, who is autistic, experiences and deciphers the world.
"The challenge is to allow a fairly neurotypical audience to experience the world through the eyes of this non-neurotypical boy," said UMD assistant professor Jared Mezzocchi, who is the co-director and designer of a production of the play at Bethesda's Round House Theatre, playing now through December 22. 
The winner of the 2015 Tony Award for Best Play, "The Curious Incident of the Dog in the Night-Time" was adapted by English playwright Simon Stephens in 2012. 
Most of the story takes place in Christopher's mind. A self-described "mathematician with behavioral problems," Christopher does not like loud sounds or being touched, has never walked beyond his own street and does not understand emotions. He processes everyday situations through equations, maps and other organizational devices.
To take the audience along on Christopher's journey, the Round House creative team uses hundreds of multimedia projections, many of which feature original, hand-drawn illustrations. 
Mezzocchi, who created and leads the projections design track of the design M.F.A. in the School of Theatre, Dance, and Performance Studies (TDPS), has previously designed for Round House and is a company member of Woolly Mammoth. He also spends his summers directing original work at Andy's Summer Playhouse, a children's theater company in New Hampshire, where he is also artistic director.
"I'm fascinated by how this child views the world," Mezzocchi said about Christopher. "It was important to me that the design enhanced or largely influenced the narrative and whose world we're viewing it through." 
Mezzocchi is not the only member of the play's creative team representing UMD: scenic designer Paige Hathaway '14, costume designer Deb Sivigny '04 and choreographers Colette Krogol '17 and Matt Reeves '17 of Orange Grove Dance are all alumni of TDPS' M.F.A. programs.
First year M.F.A. design student Taylor Kennedy Verrett '22 was recruited by Mezzocchi at the beginning of the semester to create some 200 illustrations for the set. Mezzocchi then animated them to be projected onto the stage. 
Verrett called it an "amazing opportunity" that helped improve her professionalism, creativity and design skills. 
Mezzocchi said that exemplifies how TDPS helps students navigate the field. Many faculty members work professionally on local, regional and national productions. "In art and performance, it's really hard to isolate education to the classroom," he said.
This play in particular was a great challenge for the creative team, Mezzocchi said, as they were tasked with making scenes "with very little" beyond what was being filtered and processed through one character's mind.  
"We needed to have a team that were all primary artists to tell the story," he said. "It required each of us to really understand the ensemble, the story and the essentials to storytelling." 
"The Curious Incident of the Dog in the Night-Time" is playing now through Dec. 22 at Round House Theatre in Bethesda. Tickets are available here. 
Images by C. Stanley Photography.