ARHU Grad's Beauty Business Gets a Boost
July 29, 2020 American Studies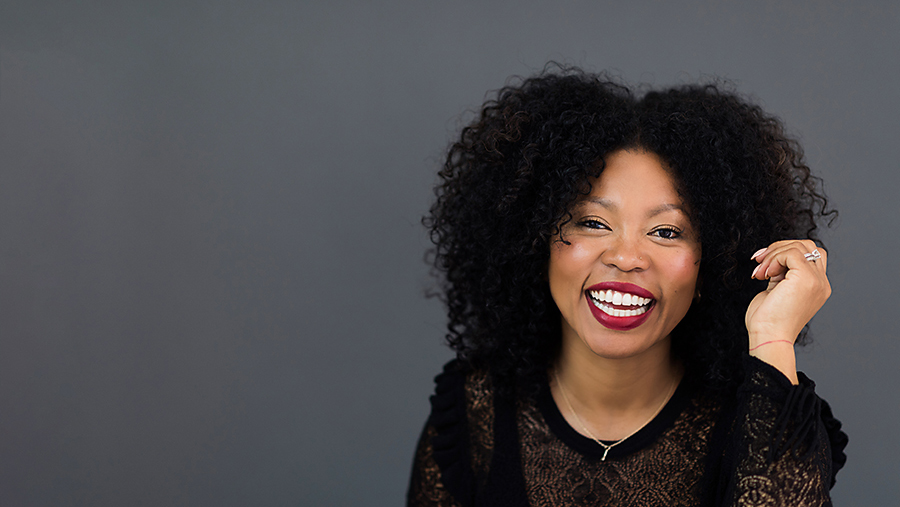 Amid a national reckoning over racism, Mia Chae Reddy Ph.D. '12 finds her voice as a Black business owner.
By Jessica Weiss '05
For the past few weeks, Mia Chae Reddy Ph.D. '12 has been working 18-hour days, packing up orders of her Dehiya beauty and wellness products and shipping them across the world. The small business owner and ARHU alumna admits that she never expected sales would increase during a global pandemic.
Earlier this year, as COVID-19 spread across the country, Dehiya took a hit. But just days after George Floyd was murdered by police in Minneapolis, setting off a wave of protests nationwide, Black-owned businesses across the country saw a surge of attention. In a matter of days, Reddy was sold out. Her sons, 16 and 12, began helping with labelling, packaging and shipping her products.
"All of a sudden I'm seeing hundreds of messages and shares," she said. "You go from trying to build a platform and awareness to all of a sudden this? It's very surreal."
In recent weeks, Reddy and Dehiya have been featured in Harper's Bazaar, Allure, Essence and other top publications. She's seen a more than 5,000% jump in visits to her website and thousands of new followers on Instagram. She's engaged in countless conversations around race that she said have been, on the whole, "thoughtful and genuine," though she also admits to struggling with feelings of guilt from profiting off tragedy.
As a result, Reddy has stepped out more into the public eye—as a voice not only for her business, but also for Black lives. In a way, she said, it feels like the confluence of her personal explorations as a Black woman, her undergraduate and graduate studies in Black cultural identity and her passion for beauty and wellness.
"I feel empowered to say what I want to say now," said Reddy. "I feel like I'm coming into my place as a founder and cultural curator. It turns out skincare and products have been a catalyst to have important conversations."
Reddy began her undergraduate studies in fashion at Clark Atlanta University and then transferred to the University of Wisconsin, Madison, where she graduated with a bachelor's degree in African American studies in 2002. Interested in continuing on with a doctorate, she visited the University of Maryland and fell in love with the American studies department.
"It's a very progressive and interdisciplinary department," she said. "And so down to earth. The professors and mentors I met never shied away from talking about everyday life. It always felt very human."
At Maryland, Reddy focused her research on women of color, and specifically Black women, growing up in the golden era of hip-hop, and how that formed their conception of identity. She also spent three years as a fellow and research assistant at UMD's Consortium on Race, Gender and Ethnicity, presenting original research, assisting on a book project and highlighting intersectional scholarship on campus.
Reddy especially credits Psyche Williams-Forson, now an associate professor and the chair of the Department of American Studies, with encouraging her to finish her Ph.D. in spite of Reddy becoming a new mother.
"Psyche is the reason I stayed and finished," she said. "It was more than just a professional relationship. She really pushed me in the best way."
A few years after graduating with her Ph.D., she was on vacation with her family in Morocco when she met a fourth-generation herbalist in Marrakech. Reddy, who had always been artistic and creative and even worked as a makeup artist throughout college, was in awe as the herbalist showed her a number of traditional Moroccan beauty rituals. That day, she began to envision her own brand inspired by ancient practices and modern women.
Dehiya launched in March 2019. The company's products are all plant-based, vegan and ethically-sourced, and many of the ingredients are produced by a women's co-op outside of Marrakech.
Upon starting her business, Reddy found herself wondering how to effectively combine beauty and entrepreneurship with a background in social science and research. But as it turns out, she uses her degree constantly as a small business owner, she said.
"Even when I'm researching things like packaging, which seems unrelated, I know how to conduct research in a way that's methodical," she said. "The way I'm talking about products, the importance of telling a story in a way that's accurate—it's important to me I get the story right, and that comes from my experience with ethnography and storytelling."
"I feel like I've found the right space," she added.
She also believes that the pandemic is shifting the way many people look at beauty and self-acceptance. For instance, many who previously dyed their hair have stopped doing so, embracing their gray. That, plus the new focus on equity and inclusion, excites Reddy for the future of the beauty space.
More than anything, it feels like a moment of heightened responsibility, she said. "I'm trying to be strategic about it. I want to make sure that my points are being conveyed … that I'm getting my message across."
Photos courtesy of Mia Chae Reddy.