American Studies and Engineering Student Wins Undergraduate Researcher of the Year
June 05, 2019 American Studies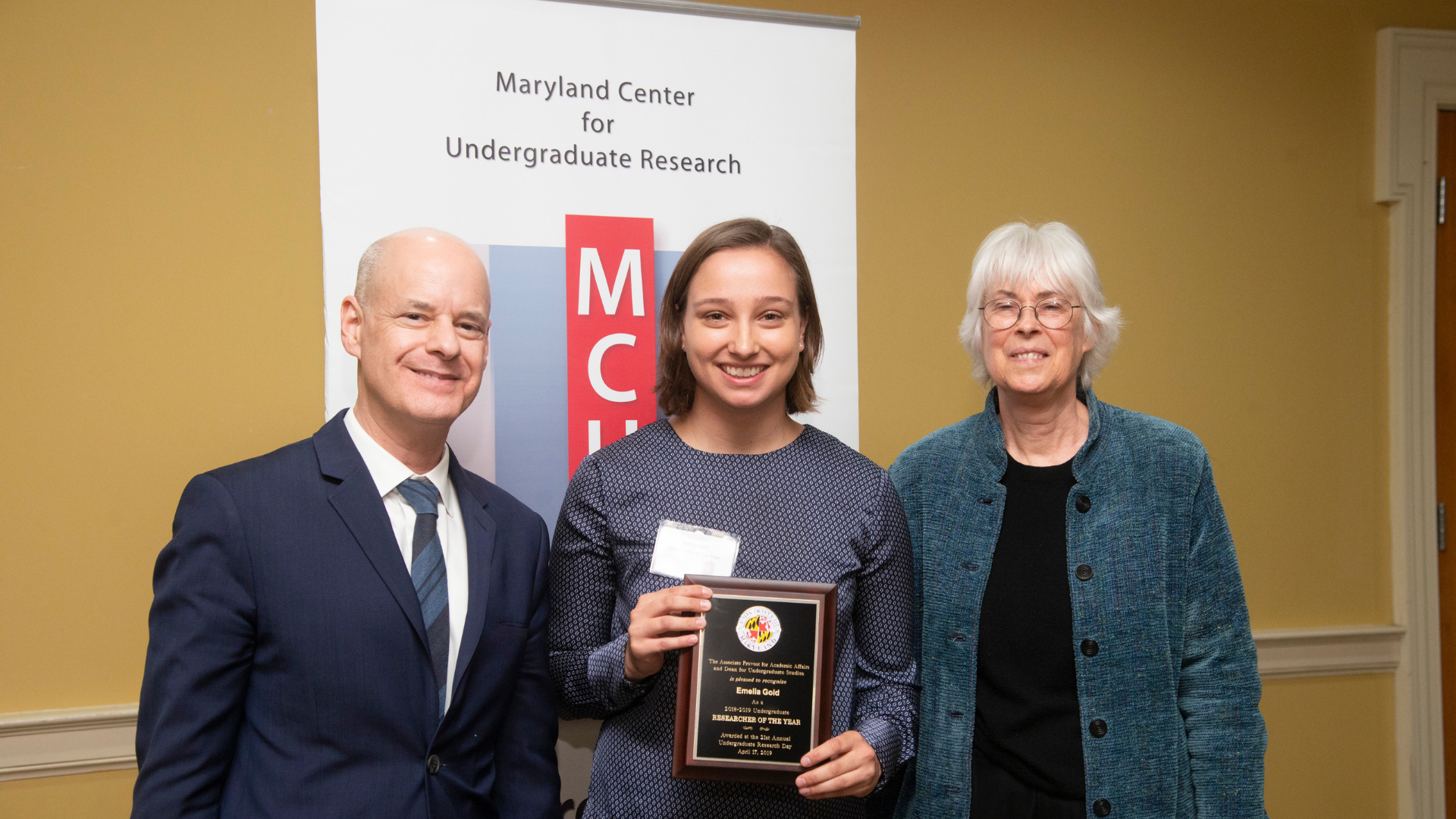 Double major Emelia Gold '19 fuses humanistic and scientific inquiry.
By Joanna Jones '19
For Emelia Gold '19, American studies and mechanical engineering, combining humanistic and scientific inquiry is the best way to understand complex social and environmental issues like the climate crisis and immigration. This innovative approach has earned her two 2019 research honors, an Undergraduate Researcher of the Year Award from the UMD Center for Undergraduate Research and a Winston Family Honors Research Paper Award from the UMD Honors College.
Gold began as a mechanical engineering major, but after a course with Assistant Professor of American Studies La Marr Jurelle Bruce, she became interested in how culture impacts the development and implementation of technology, and she became a double major.
"American studies helped me understand that nothing is 100% objective," she said. "Technology gives us a front to appear objective, but it's still made by humans and the data is coded by humans, so we are just putting our own biases back into the technology."
Her senior capstone project for the American studies department explores the relationship between media coverage of immigration and public perception of immigrants. She says that the pervasive coverage of immigration influenced her decision to research it.
"Everytime you turn on the TV or the radio, you hear something about the border wall," Gold said. "But the intense, polarized debate over immigration in the U.S. really overshadows the immense human suffering that the migrants are experiencing."
During her time at Maryland, Gold has also conducted research through internships and experiential learning programs. As an intern at Argonne National Lab, she worked on a downloadable tool that helps people compare the environmental and economic costs of conventional and alternative fuel vehicles to help them decide which vehicles to purchase or use.
Gold says that her humanities training helps her think about engineering from a more holistic perspective. "Who will have access to new technologies like alternative fuel vehicles? American studies has helped me examine things that we don't talk about enough in engineering, like social justice, equity and inclusion," she said.
Inset Photo: Emelia Gold (center) with her research advisor Mary Corbin Sies, associate professor of American studies (right) and William Cohen, associate provost and dean for Undergraduate Studies at the award ceremony. (Photo courtesy of F. DuVinage, UMD).