2021 State of the College Address
September 24, 2021 College of Arts and Humanities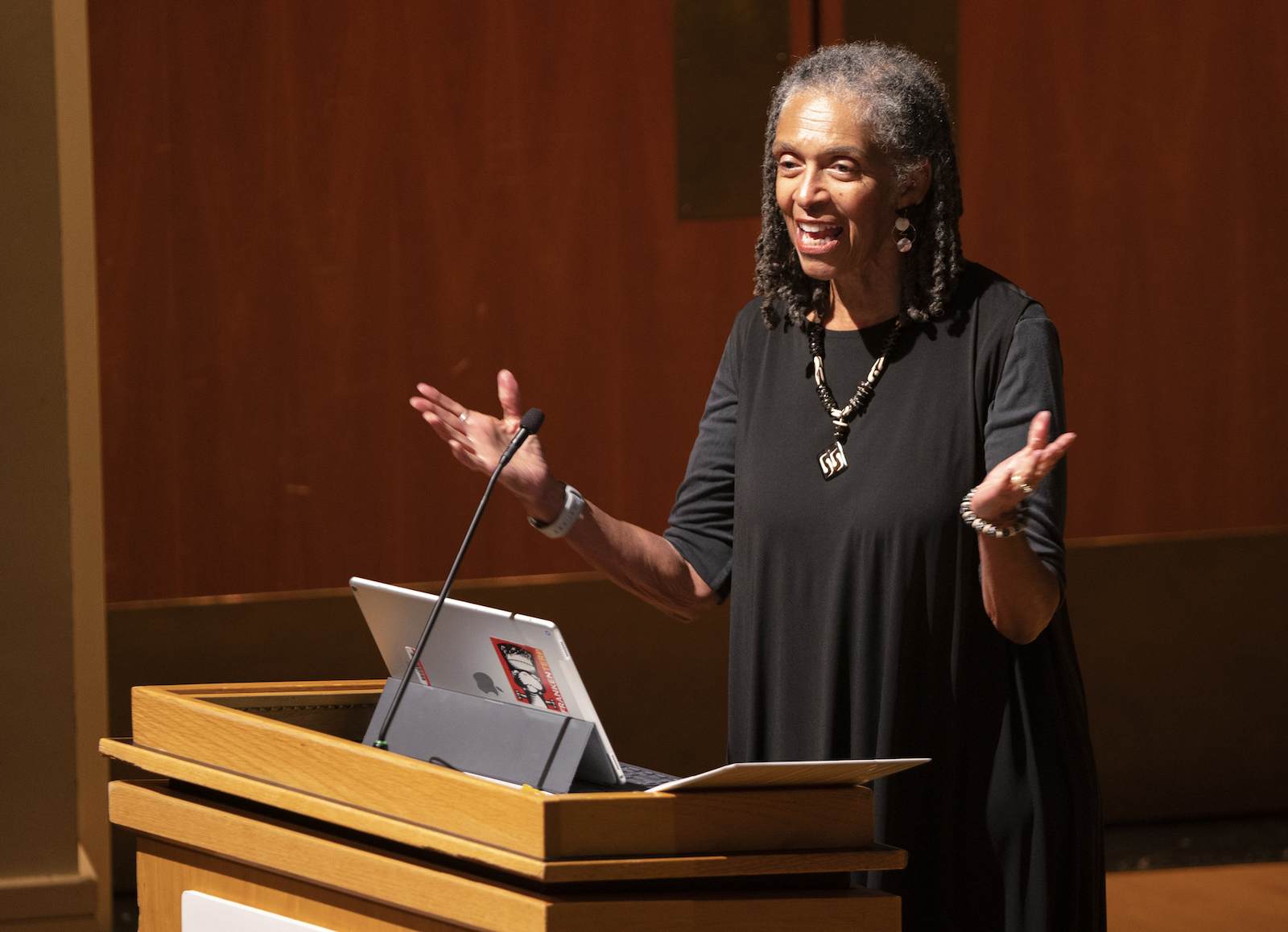 Remarks by Dean Bonnie Thornton Dill to students, faculty and staff at the college's annual convocation.
September 23, 2021, 3:30 PM
Gildenhorn Recital Hall, The Clarice Smith Performing Arts Center 
ACKNOWLEDGEMENTS | INTRODUCTION | | STRATEGIC GOALS | CONCLUSION
The dean: I frame my remarks today around values and principles developed in the college near the beginning of the pandemic because clarity about our values, in this uncertain time, has helped us move forward.
ACKNOWLEDGEMENTS
Good afternoon, thank you for joining me today and thanks to all of the people who've made today's program possible: staff of The Clarice; faculty and students in the School of Music; the School of Theatre, Dance, and Performance Studies; and the outstanding Convocation team in my office —led by my Assistant Chant'e Ingram and Assistant Dean Nicky Everette and their staff. 
INTRODUCTION
It's nice to see so many of you —in person at this annual event where we seek to reaffirm and renew our community and shared commitments to teaching, research and service. 
Thanks to the technology we've all learned to use so well, we are able to do this event in a blended format, so I welcome those of you who are joining us via livestream.
This is the first ARHU convocation ever held in hybrid format, affirming  the "now normal." Soon we may conduct convocation in layered (or multi-dimensional) formats—a concept I gleaned from listening to presentations by a group of Immersive Media Design students at their showcase last week. As I understand it, layered "realities" would  include in-person, hybrid or augmented reality, and the immersive experience of virtual reality. The future of higher education in general (and ARHU in particular) will depend on how we use these opportunities and whether we're brave enough to embrace multiple layers in our future practice.  
In 2020, the Association of Public and Land-grant Universities reported that government funding, student mental health, diversity and inclusion, affordability, evolving workforce needs for graduates and declining student enrollments were among the greatest challenges facing public higher education, pre-pandemic. (Inside Higher Ed, June 24,2020 E.Whitford). The report argues that the pandemic, rather than presenting new challenges, exacerbated these existing ones. 
Within the academy, hierarchical inequities that undervalue teaching have become undeniably evident, as have issues of social and economic precarity within student populations, many of whom are now grappling not only with increased financial burdens but also with the challenges of learning in environments that may not be safe or supportive.  
The ongoing syndemic–a term used to describe the co-occurence of COVID-19, racial reckoning and economic insecurity–has challenged every facet of our lives. Each of us has wrestled with the psychological toll of this period, and grappled with the blurring of lines between school, work and our personal lives. 
In ARHU, we're enduring two recent losses that have compounded the grief of the past 18 months. I want to take a moment to pay tribute to these colleagues. 
A UMD alum, award-winning international graphic designer and Professor of Graphic Design, James, or Jim, Thorpe passed away in August 2021, at the age of 70. Remembered as "unwaveringly kind," he taught for the Department of Art for more than 30 years.
Legendary American soprano and beloved Professor of Voice and Opera Carmen Balthrop passed away this September, at the age of 73 following a yearlong battle with cancer. Another UMD alum, she taught for the School of Music for 35 years.
With gratitude for their dedication and service, we are better because they chose to return to UMD, their alma mater, to share their talents and passion with all of us.   
So, here we stand, 
Fall semester, 2021
deep within the portal that is the pandemic; 
- an inflection point - 
darkness receding slowly, 
dust, fog clearing slightly, 
walking cautiously.  
Yet we, faculty and staff, 
must continue moving forward.
We are called to prepare our students
to make meaningful lives
and a good living 
in the unknown and 
still distant Post-pandemic future.
STRATEGIC GOALS
How do we work together to answer this calling; to give birth to a transformed higher education; to become a beacon for the future rather than fossils of the past? 
We begin by building on our foundational values and principles. Clarity about our values, in this unsettling time, has helped us move forward reflectively while accomplishing our strategic goals.
Facing serious budget cuts last year, the college's leadership and members of advisory committees worked together to articulate a set of interconnected values to guide us in a strategic approach to resource allocation. These five values informed our practice.  
The first is to:
1: Deliver our Academic Mission 
Our commitment to value the academic mission supports the first goal in the college's strategic plan and it begins with students. 
A recent Politico article suggests that students at this point in the syndemic have become even "more focused on the return on investment they're getting for their degrees."  Elsewhere its been noted that they desire to learn in new, collaborative ways and want to prepare themselves for careers that address problems that have been exposed: poverty, health disparities; race, sex and gender discrimination; and environmental degredation are primary.
ARHU's Be Worldwise. Get Worldready. initiative was designed to integrate career development into our creative and reflective educational goals so that our students' academic journeys are intentional. Emphasis on the articulation of skills gained through our coursework; internships; and career readiness are vital elements in addressing students' and parents' questions about the outcomes of an arts and humanities education.
New academic programs in which students can combine their passions and talents with their pre-professional aspirations have made the new Philosophy, Politics, and Economics major and the Humanities, Health and Medicine minor areas of considerable growth. 
We're challenging ourselves to rethink our humanities Ph.D.s to "help bridge the gap between doctoral education and the realm of career possibilities." (Source:https://www.imaginephd.com/about)
And, we're preparing both graduates and undergraduates to launch careers in emerging media formats such as webcasts, immersive design technology and virtual reality performance—a focus of our new Arts for All Initiative. 
Commitment to the academic mission supports the strategic goal of building and supporting a world-class faculty. With diligence and dedication, you—ARHU faculty have learned to use technology to transform your teaching and learning in inspiring ways. 
Professor of Violin Irina Muresanu is working with colleagues in UMD's robotics lab to develop expanded uses of artificial intelligence technology for violin instruction. And the National Foreign Language Center will soon launch a free language learning app aimed at helping high school aged-students and adults brush up their language skills.  
Just this week, the Department of English hosted a powerful virtual conversation as part of their Antiracism series with Honorée Fanonne Jeffers, who's new novel, "The Love Songs of W.E.B. Du Bois," is a 2021 National Book Award nominee, and the latest pick in Oprah's book club. 
You, our staff have persevered, supporting the mission remotely from your homes and now from campus. Telework has become a part of our work practice, wherever feasible, hopefully making work-life balance better for all.
Janel Brennan-Tillmann, a staff member in the School of Languages, Literatures, and Cultures, led weekly workshops and provided 99 hours of instructional design support for ARHU faculty. As part of The Clarice's safe return to campus for their large staff, Ryan Knapp and Mark Rapach received COVID-19 Contact Tracing Certification upon completing the John Hopkins University program. 
2: Engage and Collaborate 
We have long had a goal to strengthen community in the college. Our second value focuses on engagement and collaboration, transparency, trust and shared governance. It is fair to say that the past 18 months have tested and ultimately enhanced those commitments. Within the Dean's Office, we have worked to increase transparency and engagement in critical decision making. We are working with units to ensure that they have clear plans for the appointment, evaluation and promotion of professional track faculty and provisions for engaging them in unit governance. We also added staff representation to the college's Administrative Council.
We have supported collaborative partnerships that engage artists and humanists with members in the greater UMD community to achieve shared goals. A crowdsourcing project led by the David C. Driskell Center and the College of Information Studies is engaging scholars, historians, artists and the public to help transcribe and preserve the works of the late African American artist, scholar, curator and Distinguished University Professor of Art David C. Driskell. The project initially includes about 1,200 digitized works from the Driskell Papers collection.
3. People Matter  
Throughout this period of change, keeping the needs and vulnerabilities of people in the forefront has been paramount. The third value, "people matter," seeks to balance efficiency with humanity in financial management, reducing harm to the most vulnerable. 
We distributed budget cuts with these values in mind and after a year, the college and most unit budgets are constrained but stable. We successfully weathered these reductions because we were able to save money due to the hiring freeze and travel restrictions. And in the end, the campus did not impose any additional cuts. We're hiring again this year and are hopeful that sources of entrepreneurial income will grow.  
Surprisingly, in the midst of the pandemic, donors and supporters of specific college initiatives gave generously, and we had our most successful philanthropic year ever, raising over 17.5 million dollars in the fiscal year that ended June 30, 2021.  As of this week, we've exceeded our Fearless Ideas campaign goal, raising a total of just under $79.5 Million dollars.
4. Maintain our Commitment to Diversity, Equity and Inclusion
Though maintaining our commitment to diversity, equity and inclusion is the fourth value I mention today, fostering such an environment is a principal strategic priority expressed in every facet of our college. 
ARHU has always offered rigorous courses that examine issues of race, equity, inclusion and social justice, giving our students deep historical knowledge and the ability to see the world from multiple perspectives. We provide almost 50% of the diversity courses in the general education curriculum and many more if you include courses offered in our majors and minors.
We've actively recruited and successfully hired more than two dozen underrepresented minority faculty members with broad expertise, visionary ideas and readiness to transform discourse into action. The breadth of faculty expertise is revealed in numerous ways, including the college's colloquium series on Race, Equity and Social Justice, which will continue this year with a focus on the impacts of systemic racism on Asian, Jewish, Black, LGBTQ+, Arab and Muslim populations in the U.S.
In addition, our nationally acclaimed leadership at the intersection of digital humanities and Black and cultural studies continues to grow with recent awards.
Assistant Professor of Communication Catherine Knight Steele is a co-recipient of a $4.8 million dollar Mellon grant to fund the Digital Inquiry, Speculation, Collaboration, and Optimism network (DISCO). And Assistant Professor of Persian Literature and Digital Humanities Matthew T. Miller received grants from both the National Endowment for the Humanities and the Mellon Foundation to support the continued development of optical character recognition tools for Arabic scripts.
And still, there's more to be done. So, we're recruiting a chief diversity, equity and inclusion officer for the college, who will work collaboratively to advance this agenda and develop new goals for the future. 
5. Prepare for the Future:
Speaking of the future, the fifth and final value is to prepare for the future by making decisions that facilitate the leadership, resilience and excellence of the variety of methodologies, legacies and insights of the arts and humanities. As Patrick pointed out in his welcoming remarks, and as others have written, the world needs the arts and humanities now, more than ever. It needs our knowledge and perspectives to unleash the transformative power of the imagination for the public good.  
This is why telling our stories and making our accomplishments and their impact visible–another of our strategic goals–is so important. Our web transformation project is a week away from completion; not only have we revamped the college website; we've re-developed websites for every academic unit. Comprehensive reporting about faculty accomplishment illustrates the impact of the arts and humanities and appears in campus publications and in local and national news outlets with regularity. 
These accomplishments combined with student demand has raised campuswide visibility for the college and helped garner presidential support for Arts for All, an initiative that will lead us into a future where arts+tech+social justice become central to the University of Maryland. 
CONCLUSION   
In conclusion, "we stand at an inflection point of transformative change in higher education." (Quote from Chris Long, MSU)  We have demonstrated to ourselves and to others that we can be creative, resilient and resourceful through some of the darkest days. Those lessons will surely carry the college through the changes before us, anticipated and unanticipated. Among the anticipated changes will be a new dean. At the end of this, my eleventh year serving in this position, I will step aside. The provost will soon announce a national search. And, I have no doubt that the stellar reputation of ARHU and the University of Maryland will attract outstanding candidates, eager to use the foundation we've built together to take the college to even greater heights in its post-pandemic future. 
I'm not leaving yet...and I'm looking forward to all the things we will accomplish together this academic year. It is an honor and pleasure to serve as your dean, and I'm happy to report that the state of the college is strong.
Again, thank you for joining me today. Please join us for a reception in The Clarice courtyard where you can greet and welcome new and returning colleagues—with your masks on—in PERSON! 
THE END
Image of Dean Bonnie Thornton Dill at Convocation by David Andrews.