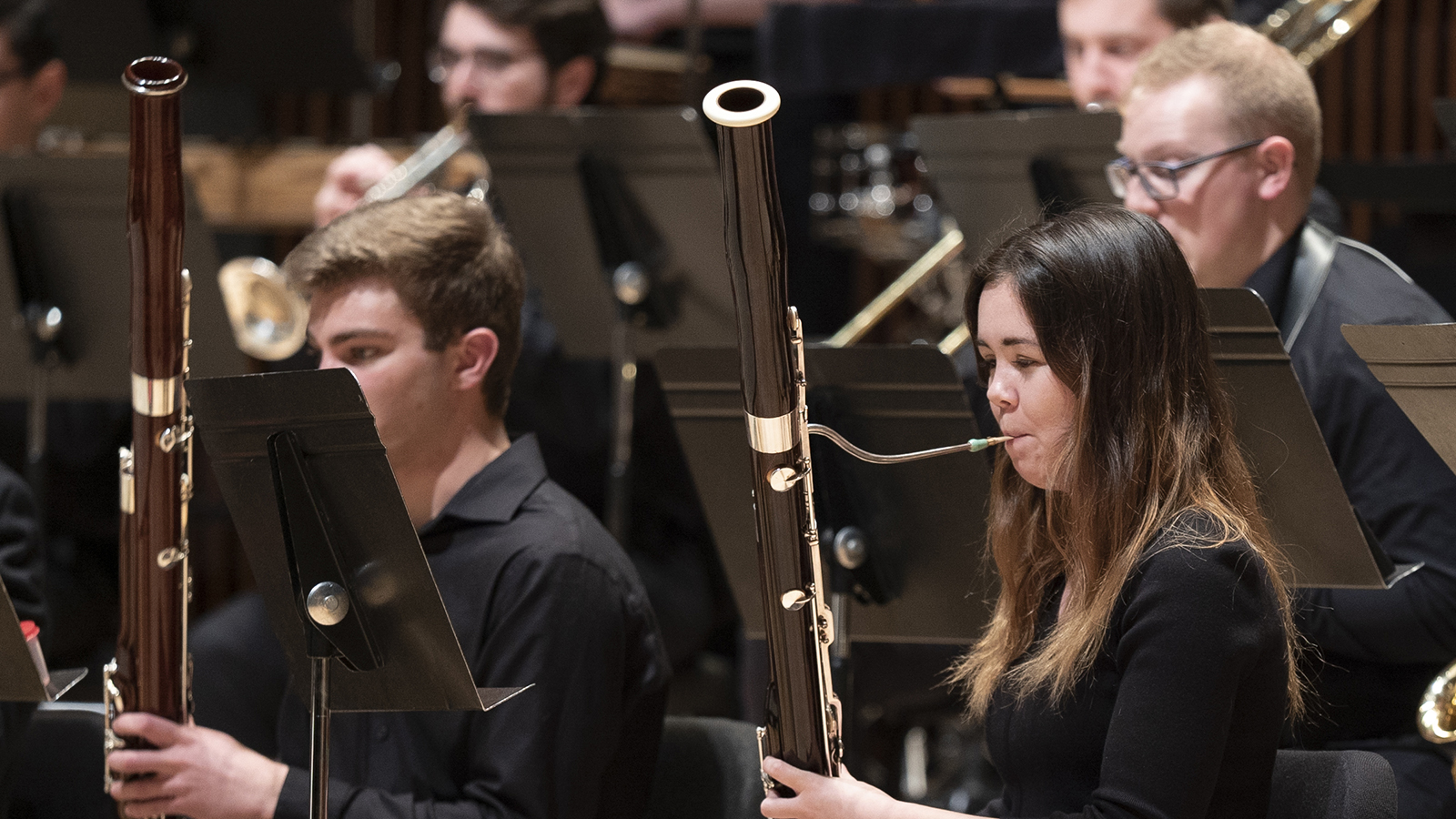 Impressions of…
College of Arts and Humanities | School of Music | The Clarice Smith Performing Arts Center
Saturday, October 9, 2021 8:00 pm-10:00 pm
The Clarice Smith Performing Arts Center, Dekelboum Concert Hall or Livestream on Vimeo
UMD Wind Orchestra
Michael Votta, Jr., conductor
Alexander Scott, graduate conductor
Join us in-person at The Clarice or watch the livestream from the comfort of your home.
This evening of contemplative works will explore the variety of ways that outward impressions can influence inward feelings. First, experience the English seaside in Ruth Gipps' Seascape. Then, absorb Arnold Schoenberg's masterful Chamber Symphony Op. 9—the first work to distill a symphony into one movement. Don't miss the performance of Kung Fu by award-winning Chinese composer Shuying Li. Commissioned by the UMD Wind Orchestra, Li captures the spirit of kung fu in three movements. Finally, Jules Strens' Danse Funambulesque (Tightrope Dance) is literally a "high-wire" act, depicting his impressions of seeing aerialists in action—leaping, flying and twirling in death-defying stunts.
Program:
Ruth Gipps: Seascape
Arnold Schoenberg: Chamber Symphony, Op. 9
Shuying Li: Kung Fu
Jules Strens: Danse Funambulesque (Tightrope Dance)
About the UMD Wind Orchestra (UMWO):
Led by Michael Votta, Jr., UMWO is a leading voice among collegiate ensembles in premiering new works for winds. This season's engaging performances will feature faculty soloists and world premieres of new works and masterworks of the 20th and 21st centuries.
Health & Safety for In-Person Attendance
There may be COVID-19 safety policies in place, such as mask requirements, when you attend this event. Please see The Clarice's health & safety page for the most up-to-date information about attendance.
Photo Credit: David Andrews