David C. Driskell Papers - Opening Reception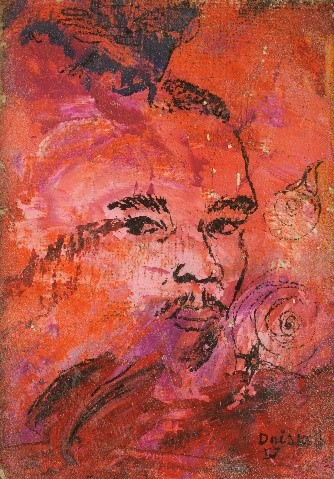 David C. Driskell Papers - Opening Reception
College of Arts and Humanities | David C. Driskell Center for the Visual Arts and Culture of African Americans and the African Diaspora
Thursday, September 10, 2020 5:00 pm-7:00 pm
The David C. Driskell Center, 1207
Self Portrait, 1957
Painting
© David C. Driskell/David C. Driskell Center, 2017
Gift from the Collection of Louis K. Rimrodt
The Professor David C. Driskell Archive of African American Art, AKA the Driskell Papers, was assembled over more than six decades and consists of an estimated 50,000 objects.
Among the unique objects in the Driskell Papers are lecture notes; students' dissertations; slides from artist studios and exhibitions; magazines; and, most importantly, correspondences with nationally known artists such as Romare Bearden, Elizabeth Catlett, Aaron Douglas, Jacob Lawrence, Georgia O'Keeffe, and James Porter.
The Fall 2020 exhibition will include unique materials from the Driskell Papers as well as drawings by Prof. Driskell from the David C. Driskell Center Art Collection.
The Driskell Center Gallery's hours are Monday through Friday from 11AM to 4PM with extended hours on Wednesday until 6PM. The Gallery will also be open on the following Saturdays: September 26th, October 24th, and November 14th from 11AM to 4PM.